PostgreSQL Replication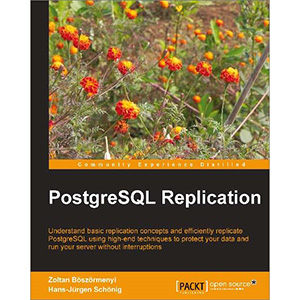 PostgreSQL offers a comprehensive set of replication related features, which can be used to make your database servers more robust and way more scalable. Unleashing the power of PostgreSQL provides the user with countless opportunities and a competitive advantage over other database systems. To make things more powerful, PostgreSQL can be used in conjunction with a handful of sophisticated tools serving various different needs such as queuing, logical replication, or simplified transaction log handling.
"PostgreSQL Replication" is a practical, hands-on guide to PostgreSQL replication. It will provide you with the theoretical background as well as simple examples showing you how to make replication work on your system. A broad toolchain will be presented along with mature PostgreSQL-core technology.
"PostgreSQL Replication" starts with an introduction to replication concepts as well as the physical limitations of different replication solutions. You will be guided through various techniques such as Point-In-Time-Recovery, transaction-log-based replication and you will be introduced to a set of replication-related tools. In the final chapter you will learn to scale PostgreSQL to many different servers using PL/Proxy.
You will learn how to reset PostgreSQL to a certain point in time and figure out how to replicate data in many ways. You will deal with both synchronous as well as asynchronous replication. In addition to that, the book covers important topics, such as Slony, and upgrades with virtually no downtime. We will also cover important performance-related topics to make sure your database setups will provide you with high speed AND high availability.
"PostgreSQL Replication" contains all the information you need to design and operate replicated setups. You will learn everything you need to know for your daily work and a lot more.
What you will learn from this book
Recover a PostgreSQL database to a certain point in time
Set up asynchronous and synchronous streaming replication
Handle transaction log files efficiently
Learn about Linux High Availability
Get to grips with Slony replication
Get PL/Proxy to scale infinitely
Understand pgpool and pgbouncer to improve speed and reliability
Perform fast on-the-fly backups
Increase reliability and throughput
Improve data security and geographically distribute data
Approach
This book has a chapter dedicated to each aspect of replication. The new features of PostgreSQL 9 are introduced and there are lots of practical examples and screenshots.
Who this book is for
"PostgreSQL Replication" is ideal for PostgreSQL administrators who want to set up and understand replication. If you want to make your databases more robust, more secure, faster, and more scalable, you will find all the information you need in this single book focusing exclusively on PostgreSQL replication. It is assumed that you already have some basic experience with PostgreSQL.
Book Details
Paperback: 250 pages
Publisher: Packt Publishing (August 013)
Language: English
ISBN-10: 1849516723
ISBN-13: 978-1849516723
Download [3.4 MiB]