The New Kingmakers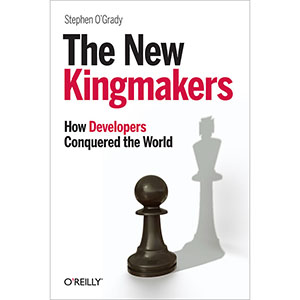 The New Kingmakers documents the rise of the developer class, and provides strategies for companies to adapt to the new technology landscape. From recruiting to retention, it provides a playbook to work more efficiently and effectively with the most important members of your organization.
Table of Contents
Chapter 1. Introduction
Chapter 2. The New Kingmakers
Chapter 3. How Did We Get Here
Chapter 4. The Evidence
Chapter 5. What To Do? 10 Recommendations
Chapter 6. Final Thoughts
About the Author
Stephen O'Grady is a co-founder of the developer-focused technology analyst firm, RedMonk. Regularly cited in publications such as the New York Times, BusinessWeek, and the Wall Street Journal, Stephen's work revolves around understanding developer needs and trends and working with businesses to help them work more effectively with the New Kingmakers. Although his birth certificate says New York City, Stephen is a Red Sox fan, born and raised. A graduate of Williams College, Stephen lives in Midcoast Maine with his wife.

Book Details
Paperback: 56 pages
Publisher: O'Reilly Media (March 2013)
Language: English
ISBN-10: 1449356346
ISBN-13: 978-1449356347
Download [3.6 MiB]