Windows 8 and Office 2013 For Dummies, Portable Edition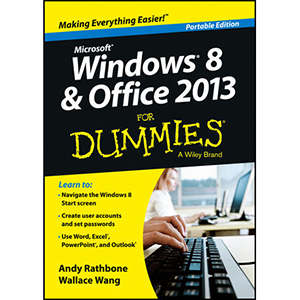 Master the basics of Windows 8 and Office 2013!
Windows and Office work together to turn your PC into a productivity tool. The unique Windows 8 interface combines with updates to Office 2013 to create a new computing experience. This book offers quick answers for when you get stuck. Learn your way around the Windows 8 Start screen and Charms bar as well as Office 2013 applications.
The new Windows — see how to launch programs, customize Windows 8, and create user accounts
Apps and more — install and update apps, locate missing ones, and identify which ones are running
Get social — add your social networking and e-mail accounts to Windows 8 for quicker updating
Welcome to Office 2013 — navigate the Ribbon and create and format Word documents and Excel spreadsheets
Get organized — manage your e-mail and contacts and track your appointments
Open the book and find:
A tour of the Windows 8 Start screen
How to password-protect your user account
Tips for adding or removing Start screen items
Advice on customizing Office 2013
Ways to punch up your PowerPoint presentations
Hints for analyzing data with Excel
Table of Contents
Part I: Windows 8
Chapter 1. Revealing Windows 8
Chapter 2. The Mysterious New Start Screen
Chapter 3. The Traditional Desktop
Chapter 4. Basic Desktop Window Mechanics
Chapter 5. Storage. Internal, External, and in the Sky
Chapter 6. Working with Apps
Chapter 7. Engaging the Social Apps
Chapter 8. Entertaining Yourself through the Start Screen
Chapter 9. Customizing Windows 8 and Computing Safely
Part II: Office 2013
Chapter 10. Getting Started with Office 2013
Chapter 11. Working with Word
Chapter 12. Playing the Numbers with Excel
Chapter 13. Making Presentations with PowerPoint
Chapter 14. Getting Organized with Outlook
Chapter 15. Storing Stuff in Access
Part III: The Part of Tens
Chapter 16. Ten Things You'll Hate about Windows 8
Chapter 17. Ten Tips for Using Office 2013
Book Details
Paperback: 480 pages
Publisher: For Dummies; Portable Edition (May 2013)
Language: English
ISBN-10: 1118669533
ISBN-13: 978-1118669532
Download [13.7 MiB]