Oracle WebLogic Server 12c: First Look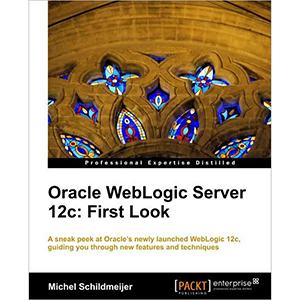 Oracle Weblogic 12c is Oracle's number 1 strategic Application Server – able to run on both cloud computing systems and conventional ones. Oracle WebLogic 12c implements the new JAVA EE 6 standard and supports JAVA SE 7, and this book will guide you through all the new features, enhancements, and tools inside the new 12c release.
"Oracle WebLogic Server 12c: First Look" offers a focused look at the new Weblogic features with real world examples.
This practical guide gives clear explanations and dives deep into all the definitions and concepts of Weblogic 12c.
This book starts with a short introduction to WebLogic 12c. It then swiftly covers the new features of JAVA EE and SE where we will also learn to develop Java EE 6 applications. This book also covers the new configuration and deployment features. Finally all the new cloud features and techniques will be highlighted, including integration with Enterprise Manager 12c.
What you will learn from this book
Master the new deployment and configuration features within Oracle WebLogic 12c
Get to grips with existing and new integrated services like Coherence, JDBC, JMS, and much more.
Learn to work with other components like OVAB, Oracle Traffic Director, and the Exabus Layer.
Understand integration with Cloud management such as Enterprise Manager 12c Cloud Control.
Approach
This book is written in simple, easy to understand format with lots of screenshots and step-by-step explanations to get you started with the exciting new features.
Who this book is for
If you are a WebLogic Server administrator or developer excited about the new features introduced in the 12c version, then this is the guide for you. A Working knowledge of previous WebLogic versions is preferable.
Book Details
Paperback: 144 pages
Publisher: Packt Publishing (June 2012)
Language: English
ISBN-10: 1849687188
ISBN-13: 978-1849687188
Download [8.1 MiB]