Getting Started with nopCommerce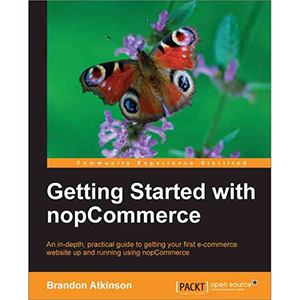 nopCommerce is a powerful e-commerce engine that gives you the tools to build an online store and start making money. Starting your own e-commerce store can seem like a daunting task. However, with nopCommerce you can easily start selling products online in no time. nopCommerce comes loaded with everything you need to run a first class e-commerce storefront.
Getting Started with nopCommerce walks you through all the steps to get your storefront up and running. You will learn how to download and install nopCommerce, as well as how to configure all the main components of the storefront. From learning about the public facing storefront to managing orders in the backend, you will have all the skills needed to run a successful store.
Getting Started with nopCommerce is a step-by-step guide for creating your online store with nopCommerce, allowing you to build a feature-rich and customizable store to sell your products online. It guides you through installation, the public facing storefront, configuration, adding products, accepting payments, and processing orders. As you work through each chapter, your online store will grow in scope and functionality. By the time you finish this book, you will have a complete and working store.
What you will learn from this book
Download and install nopCommerce
Discover the storefront and how your customers will navigate through your store
Learn to add products to shipping orders
Build your own e-commerce storefront and start selling products online
Set up and configure shipping methods for orders including UPS, FedEx, and USPS
Create custom pages to display content to your customers
Manage email templates to communicate with customers
Learn to set up and configure payment providers including PayPal, Google Checkout, and Authorize.net
Approach
A friendly, tutorial style book, which will help you learn your way through creating a live storefront with nopCommerce in a step-by-step manner.
Who this book is for
Getting Started with nopCommerce is for anyone who wants to sell products online using nopCommerce. If you are a non-technical person and are discouraged by the complexity of this powerful e-commerce application, then this book is for you.
Book Details
Paperback: 134 pages
Publisher: Packt Publishing (June 2013)
Language: English
ISBN-10: 1782166440
ISBN-13: 978-1782166443
Download [14.9 MiB]