Oracle Goldengate 11g Complete Cookbook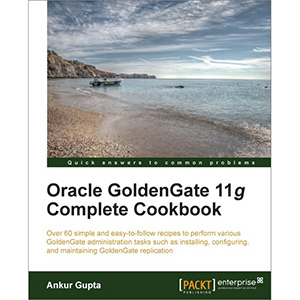 Oracle Goldengate 11g Complete Cookbook is your complete guide to all aspects of Goldengate administration. The recipes in this book will teach you how to setup Goldengate configurations for simple and complex environments requiring various filtering and transformations. It also covers various aspects of tuning and troubleshooting the replication setups using exception handling, custom fields, and logdump utility.
The book begins by explaining some basic tasks like Installation and Process groups setup. You will then be introduced to some further topics including DDL replication and various options to perform Initial Loads. You will then learn some advanced administration tasks such as Multi Master replication setup and conflict resolution. Further recipes, contain the cross platform replication and high availability options for Goldengate.
What you will learn from this book
Configure DML and DDL Goldengate replication
Tune and Troubleshoot Goldengate replication
Cross Platform replication using Goldengate
Monitor Goldengate Replication using OEM 12c
What to do when GoldenGate replication breaks
Reverse changes applied by Goldengate
High Availability Setup for Goldengate
Learn about GoldenGate Veridata and GoldenGate Director
Migrate Oracle Streams environment to Goldengate
Approach
Oracle Goldengate 11g Complete Cookbook follows the Cookbook style. Each recipe provides step by step instructions with various examples and scripts. This book provides the necessary information to successfully complete most of the possible administration tasks.
Who this book is written for
Oracle Goldengate 11g Complete Cookbook is aimed at Database Administrators, Architects, and Middleware Administrators who are keen to know more about Oracle Goldengate. Whether you are handling Goldengate environments on a day-to-day basis, or using it just for migration, this book provides the necessary information required to successfully complete your administration tasks. The reader is expected to have some knowledge of Oracle databases.
Book Details
Paperback: 362 pages
Publisher: Packt Publishing (September 2013)
Language: English
ISBN-10: 1849686149
ISBN-13: 978-1849686143
Download [12.7 MiB]