Oracle Enterprise Manager 12c Administration Cookbook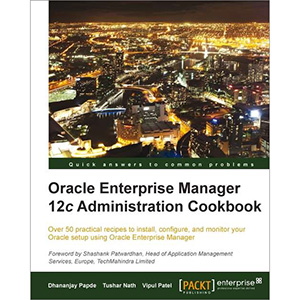 Oracle Enterprise Manager is a key tool for any Oracle Administrator, allowing them to manage their Oracle installations and selected other applications, providing a one stop place to manage and maintain the entire infrastructure in any organization.
The Oracle Enterprise Manager 12c Cookbook will give administrators a head start towards implementing OEM in their organizations, by taking you through all the aspects of installation, upgrade, configuration, and monitoring of various servers, databases, and various Oracle Fusion Middleware components.
Starting with the installation and upgrade of your OEM installation, this book then takes you through the process of using OEM12c to configure and monitor your Oracle application and database servers, including the various supported Oracle Fusion Middleware products.
This book will uncover various installations options (with simple advanced options) and various upgrade options.
The book will also cover monitoring the infrastructure using Active Session History Analytics. There are recipes on creating, cloning databases, and creating templates.
Additionally there are recipes on Configuration of Oracle Business Intelligence, Oracle Golden Gate, Oracle Business Intelligence Publisher, and Oracle Weblogic using OEM12c.
What you will learn from this book
Install OEM12c, with different approaches for different circumstances
Correctly Upgrade your installation to OEM12c
Configure and correctly set up the features of OEM12c
Effectively Monitor using OEM12c, including the newly introduced features
Create and Clone databases via OEM12c
Configure Oracle Business Intelligence in OEM12c
Configure Oracle Business Intelligence Publisher in OEM12c
Configure Oracle Golden Gate in OEM12c
Configure iPhone/iPad for Incident and Problem Management in OEM12c
Setting Up Application Dependency and Performance (ADP) Manager in Cloud Control
Setting Up JVM Diagnostics (JVMD) Manager in Cloud Control
Approach
As a Packt Cookbook, you can expect this book to be full of useful and practical recipes to common and important tasks faced by professional database administrators.
Who this book is for
This book is for Oracle Database, Middleware, System, and Infrastructure Administrators. A basic understanding of Oracle Enterprise Manager is needed, as well as being comfortable using command line environments.
Book Details
Paperback: 324 pages
Publisher: Packt Publishing (March 2013)
Language: English
ISBN-10: 1849687404
ISBN-13: 978-1849687409
Download [74.7 MiB]