Oracle CRM On Demand 2012 Administration Essentials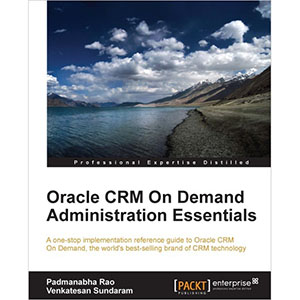 The CRMOD software is built to world-class industry reference models of customer relationship management, and the service provides all the software and features you would need for a world-class customer relationship management practice. This knowledge is essential to keep the costs of investment low and return on the investment high.
"Oracle CRM On Demand Administration Essentials" describes the design and discipline of the software and service of CRMOD. It gives you the knowledge to embed the system to a high quality and sustainable effect in your business.
This book delves into the details of the CRMOD system to equip the implementation team with the knowledge of the model of customer relationship management to adapt, adopt and advance to suit your business, keep your customers delighted and your competitors gasping. CRMOD is a platform system providing online transactions, reports and analytics and integrations with other systems. Understanding the capabilities of each of these, and bringing them together suitably, helps you build a world-class practice of CRM.
The book will start from a definition of the practice of customer relationship management to using the Oracle CRM On Demand technology to support the practice. You will learn what you get out of the box, which can be quite a lot once you begin to explore it in depth. You will then learn to configure and customize the system for both your extended tactical needs and intensive strategic business needs.
What you will learn from this book
Structured approach towards understanding CRMOD functions and features.
Perform CRMOD configuration activities.
Implement CRMOD with minimal customization.
Extend CRM On Demand using webservices.
Integrate CRM On Demand to external systems.
Build real time reports and interactive dashboards.
Manage your CRM On Demand data.
Replicate your CRM On Demand instance.
CRMOD help and Support systems.
Extended solutions from CRMOD partners.
Approach
This book is packed with real world examples that cover the design and discipline of the software and service of CRMOD.
Who this book is written for
If you are a CRMOD Administrator, Business Analyst or a CRM implementation specialist looking forward to implement CRM On Demand or enhance and maintain an existing CRM On Demand deployment, then this is the guide for you.
Book Details
Paperback: 304 pages
Publisher: Packt Publishing (December 2012)
Language: English
ISBN-10: 1849685002
ISBN-13: 978-1849685009
Download [36.8 MiB]