Oracle Business Intelligence 11g R1 Cookbook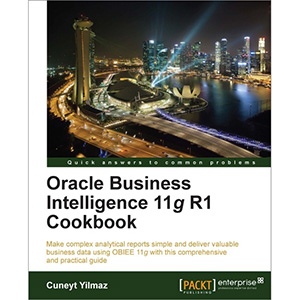 Extracting meaningful and valuable business information from transactional databases is crucial for any organization. OBIEE 11g is a reporting tool that satisfies all the business requirements regarding complex reporting. It consists of a powerful back-end engine with a repository and a highly customizable graphical web interface.
Oracle Business Intelligence 11g R1 Cookbook provides all the key concepts of the product including the architecture of the BI Server. This practical guide shows each and every step of creating analytical reports starting from building a well-designed repository. You will learn how to create analytical reports that will support different business perspectives.
This practical guide covers how to implement OBIEE 11g suite in order to enable BI developers to create sophisticated web based reports. All of tasks will be covered step by step in detail.
You will explore the architecture of the Oracle Business Intelligence Server and learn how to build the repository (RPD). We will also discuss how to implement the business rules in the repository with real-life scenarios.
Best practices of a successful BI implementation are esssential for any BI developer so they are also covered in depth.If you are planning to implement OBIEE 11g suite, this step-by-step guide is a must have resource.All the key tasks are defined in detail and supported with diagrams and screenshots.
What you will learn from this book
Understand the architecture of the Oracle BI Server
Explore the three layers of the repository and learn how to implement complex business rules
Build a secure, well-designed repository for the BI Server
Work with multidimensional sources to improve the performance of the analyses
Create the simple analyses and use advanced features of the analyses
Measure the productivity by implementing Key Performance Indicators
Customize dashboards to support your business requirements
Build a BI solution based on the best practices
Approach
Providing simple solutions, useful techniques and best practices to ensure that your business is intelligent as it can possibly be, this book is a must buy for anyone that works with Oracle BI
Who this book is for
If you are a business analyst, BI administrator or developer working with Oracle Business Intelligence 11g R1 then this book is exactly what you have been looking for. Hands on practical examples, real world solutions and best practices make this book an essential guide for Oracle BI. Clear a space on your desk as you won't want this handy reference to be too far away.
Book Details
Paperback: 364 pages
Publisher: Packt Publishing (June 2013)
Language: English
ISBN-10: 1849686009
ISBN-13: 978-1849686006
Download [53.7 MiB]