MOS 2013 Study Guide for Microsoft Outlook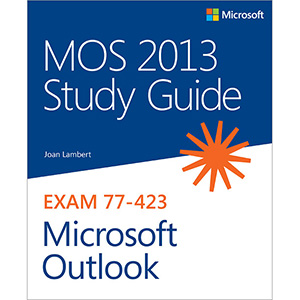 Demonstrate your expertise with Microsoft Office! Designed to help you practice and prepare for the 2013 Outlook Microsoft Office Specialist (MOS) exam, this all-in-one study guide features:
Full, objective-by-objective exam coverage
Easy-to-follow procedures and illustrations to review essential skills
Hands-on practice tasks to apply what you've learned; files included
Use the in-depth exam prep, practice, and review to help advance your proficiency with Microsoft Office—and earn the credential that proves it!
Table of Contents
Part I: Exam 77-423: Microsoft Outlook 2013
Chapter 1. Manage the Outlook Environment
Chapter 2. Manage Messages
Chapter 3. Manage Schedules
Chapter 4. Manage Contacts and Groups
About the Author
Joan Lambert has worked in the training and certification industry since 1997. As president of Online Training Solutions, Inc. (OTSI), Joan is responsible for guiding the translation of technical information and requirements into useful, relevant, and measurable training, learning, and certification deliverables. An MCTS, MOM, MCAS, and MCT, Joan is the author or coauthor of more than two dozen books about Windows and Microsoft Office (for Windows and for Mac).
Book Details
Paperback: 166 pages
Publisher: Microsoft Press (October 2013)
Language: English
ISBN-10: 0735669228
ISBN-13: 978-0735669222
Download [7.4 MiB]