MOS 2010 Study Guide for Microsoft Access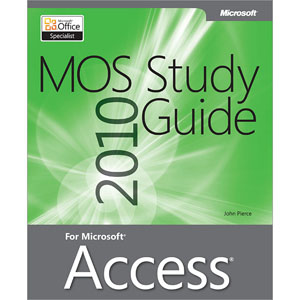 Demonstrate your expertise with Microsoft Access by earning a MOS 2010 certification. This Study Guide is designed to help you practice and prepare for Exam 77-885: Access 2010, and features:
Full objective-by-objective review
Procedures and hands-on practice tasks
Ready-made, downloadable practice files
Exam-discount and pre-test offer
Use the in-depth exam prep, practice, and review to help advance your proficiency with Access 2010—and earn the credential that proves it!
NOTE: This same content is also available as part of the MOS 2010 Study Guide for Microsoft Word Expert, Excel Expert, Access, & SharePoint Exams (ISBN 9780735657885)
Table of Contents
Chapter 1. Using the Access Workspace
Chapter 2. Building Tables
Chapter 3. Building Forms
Chapter 4. Creating and Managing Queries
Chapter 5. Designing Reports
About the Author
John Pierce is a writer with Microsoft's Information Worker New Markets group and a former editor and writer at Microsoft Press®. He is the author of Microsoft Office Access® 2003 Inside Track.
Book Details
Paperback: 158 pages
Publisher: Microsoft Press (September 2011)
Language: English
ISBN-10: 0735657939
ISBN-13: 978-0735657939
Download [15.0 MiB]