Mobile DNA: Finding Treasure in Junk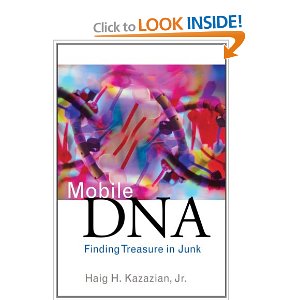 In Mobile DNA, leading geneticist Haig Kazazian thoroughly reviews our current understanding of the substantial role mobile genetic elements play in genome and organism evolution and function. He offers an accessible intellectual history of mobile DNA, rich and insightful perspectives on how investigators ask and answer research questions, and his predictions about future developments and research directions for this active field.
From the Back Cover
A Richly Engaging Review, History, and Prospective on Mobile DNA
Haig Kazazian reviews our current scientific understanding of mobile DNA and its role in the evolution and function of genomes and organisms, offering an in-depth portrait of the developing perspectives and research strategies pursued by the workers in his own laboratory. He presents an engaging history of the field, showing how advances have presented unexpected new questions, and how new tools and techniques have promoted further progress. Coverage includes: multiple types of mobile DNA; retrotransposition and other key concepts; important mobile DNA research advances in the human genome, mammals, and plants; mobile DNA's role in increasing genome plasticity and diversity; and the roles of leading scientists in moving mobile DNA research forward. Kazazian concludes with informed reflections on the possible biological roles of mobile DNA, and his own current best guesses about how a number of the leading questions currently under active investigation will likely be answered.
Book Details
Hardcover: 288 pages
Publisher: FT Press (March, 2011)
Language: English
ISBN-10: 9780137070626
ISBN-13: 978-0137070626
Download [4.9 MiB]