Moodle 2 for Teaching 7-14 Year Olds: Beginner's Guide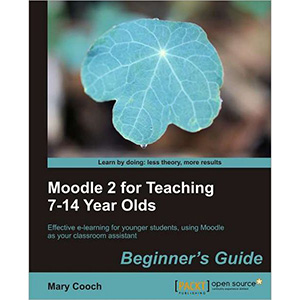 Moodle is a very popular e-learning tool in universities and high schools. But what does it have to offer younger students who want a fun, interesting, interactive, and informative learning experience? Moodle empowers teachers to achieve all this and more and this book will show you how!
Moodle 2 For Teaching 7-14 Year Olds will show complete beginners in Moodle with no technical background how to make the most of its features to enhance the learning and teaching of children aged around 7-14. The book focuses on the unique needs of young learners to create a fun, interesting, interactive, and informative learning environment your students will want to go to day after day.
This is a practical book for teachers, written by a teacher with two decades of practical experience, latterly in using Moodle to motivate younger students. Learn how to put your lessons online in minutes; how to set creative homework that Moodle will mark for you and how to get your students working together to build up their knowledge. Throughout the book we will build a course from scratch, adaptable for ages 7 to 14, on Rivers and Flooding. You can adapt this to any topic, as Moodle lends itself to all subjects and ages.
What you will learn from this book
Set up your lessons directly onto Moodle to save paper and effort
Get your students doing homework on Moodle so you can grade and give feedback online
Use Moodle to encourage discussion and decision-making
Introduce your children to the world of blogging within the safety of Moodle
Get interactive with self-marking games and quizzes by including images, sounds, and animations
Make movies and sound recordings to inspire your class
Learn how to make games that will please both the children's need to play and your headteacher's need for assessment grades
Make the most of what's free on the Web to get your children working and learning together
Approach
This book is part of Packt's Beginner's Guide series. Written in a friendly tone, the book starts at the very beginning with a blank Moodle page and you are taken step by step through the most useful features of Moodle, helped with many illustrative screenshots.
Who this book is for
This book is for regular, non-technical teachers of pre-teen or early teenage children. It assumes no prior knowledge of Moodle and no particular expertise on the web. Classroom assistants may also find this book a very useful resource. We will assume that you have an installation of Moodle managed by somebody else, so you are responsible only for creating and delivering course content.
Book Details
Paperback: 258 pages
Publisher: Packt Publishing (May 2012)
Language: English
ISBN-10: 1849518327
ISBN-13: 978-1849518321
Download [25.9 MiB]