Moodle 1.9 Testing and Assessment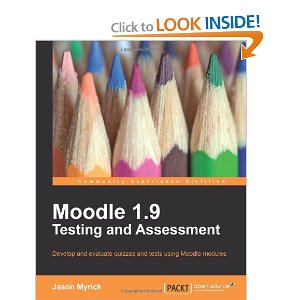 Moodle is a free Course Management System (CMS), which is a web application that educators can use to create effective online learning sites. Moodle also has many effective modules and assessment techniques for testing that can be used for any subject. Computer-based testing is inevitable in any online teaching course. As you consider the benefits of computer-based testing you will want to easily create tests and instantaneously assess them.
Moodle 1.9 Testing and Assessment puts together a variety of modules and activities that allow us to easily create and deliver a variety of tests on any subject. It is a step-by-step guide that will assist you to develop and assess simple as well as complex quizzes and tests.
You will initially learn to create different types of questions such as short answer questions, multiple choice questions, and so on. After you have learned to create questions, you will learn to integrate all of them in a Moodle quiz to create a complete test by tweaking the various options. Next you will learn to create and set up a Lesson, which you can use to create simple vocabulary or flash card tests or complex tests.
You will learn to test and assess students through work submitted using Moodle Workshop. This module also provides an opportunity for self- and peer-assessment of your student's work. Then you will learn skill-specific tests such as listening, reading, speaking, and writing tests that will help you to judge a person's ability in a particular field. At the end of this book you will learn how you can grade tests using Moodle Gradebook.
This hands-on guide helps you to establish optimal tests that can be graded using Moodle modules.
A step–by-step tutorial that helps you to develop different types of tests using the various Moodle modules and activities and assess them using the Gradebook
What you will learn from this book :
Create a Moodle quiz intended to help instructors to efficiently develop and offer computer-based tests to their students inside their Moodle course
Create multiple-choice tests that are a big part of small-scale and standardized tests
Build a complete test by setting the various options such as Timing, Display, and others
Set up an adaptive and interactive Lesson to make students learn and understand
Test your students' listening and comprehension skills for details using audio, video, and forums
Evaluate reading skills using Moodle modules such as Timed reading quizzes and Hot Potatoes
Assess your students' speaking ability by recording multiple audio files and tracking their comments by using NanoGong and Voiceboard
Scrutinize your students' writing skills by using forums, portfolios, and pre-writing assignments available in Moodle
Track the progress of the tests to monitor students improvement by setting up Moodle Gradebook
Approach
This book is an illustrative how-to guide with many screenshots and examples that helps you to create simple to complex tests and assess them using Moodle. It covers effective usage of tools available in Moodle and offers some Moodle options that you may not have tried yet. It will guide you from the basic philosophy of online testing to creating skill-based assessments in Moodle.
Who this book is written for
If you are a tutor or Moodle Administrator who is responsible for developing and evaluating an online test using Moodle, then this book is for you.
This book assumes that you have already successfully installed and set up a Moodle site for teaching.
Book Details
Paperback: 392 pages
Publisher: Packt Publishing (December 15, 2010)
Language: English
ISBN-10: 1849512345
ISBN-13: 978-1849512343
Download [7.0 MiB]