OS X Mountain Lion Bible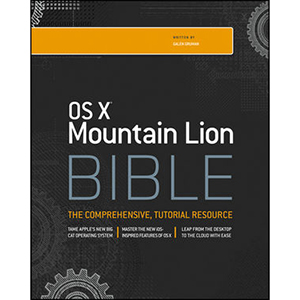 The complete guide to Mac OS X, fully updated for the newest release!
The Mac's solid, powerful operating system and the exploding popularity of iOS devices are fueling a strong increase in market share for Apple. Previous editions of this book have sold more than 75,000 copies, and this new edition is fully updated with all the exciting features of OS X Mountain Lion, including Game Center, Messages, and Notifications. Written by industry expert Galen Gruman, it covers all the basics and then delves deep into professional and higher-end topics, making it the one book you need to succeed with Mac OS X.
Mac sales are booming, and those who are just getting started with a Mac need the detailed coverage in this guide
Includes tips, tricks, and advanced information for those ready to step up to the next level with their Macs
With both basic coverage and more in-depth explorations of professional and advanced features, this book is ideal for both Mac newcomers and veterans who want to master all the functionality of the new system
Mac OS X Bible is the comprehensive resource on using the newest version of Mac OS X and taking full advantage of its power.
Table of Contents
Part I: Getting Started with OS X 108 Mountain Lion
Chapter 1. Getting Your Mac Up and Running
Chapter 2. Discovering the Finder
Chapter 3. Using the Finder
Chapter 4. Working with Windows, Folders, and Files
Chapter 5. Searching with Spotlight
Chapter 6. Getting Help within OS X
Part II: Using Applications
Chapter 7. Working with Applications
Chapter 8. Working with Documents
Chapter 9. Working with OS X's Own Applications
Chapter 10. Working with OS X's Own Utilities
Chapter 11. Working with the Dashboard Widgets
Chapter 12. Working with Notifications and Other Services
Chapter 13. Enhancing OS X with Utilities
Chapter 14. Using AppleScript and Automator
Part III: Working with Music and Videos
Chapter 15. Playing Music and Videos
Chapter 16. Using QuickTime Player
Part IV: Using the Internet and Collaboration Services
Chapter 17. Using Safari to Surf the Web
Chapter 18. Using Apple Mail
Chapter 19. Messaging and Videocalling
Chapter 20. Managing Contacts, Calendar, Reminders, and Notes
Chapter 21. Working with Microsoft Exchange
Chapter 22. Syncing Macs and iOS Devices
Chapter 23. Sharing with Others
Part V: Securing Your Mac and Your Users
Chapter 24. Securing Your Mac
Chapter 25. Managing User Accounts
Chapter 26. Using Parental Controls
Book Details
Paperback: 864 pages
Publisher: Wiley (August 2012)
Language: English
ISBN-10: 9781118401439
ISBN-13: 978-1118401439
Download [94.6 MiB]