CCNA Certification All-In-One For Dummies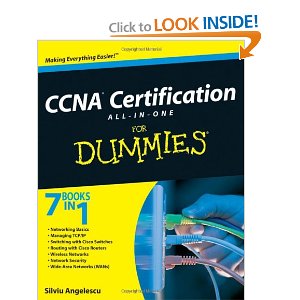 A complete preparation guide for the entry-level networking CCNA certificationIf you're planning to advance your career by taking the all-important Cisco Certified Network Associate (CCNA), this is the study guide you need! Seven minibooks cover all the concepts and topics on which you'll be tested, covering the latest version of the exam.
Each part of the exam is covered thoroughly in its own section, so you can readily find the information you want to study. Plenty of review questions help you prepare, and the companion CD-ROM includes the highly rated Dummies Test Engine so you can test your progress with questions based on exam content.
The Cisco Certified Network Associate (CCNA) is the entry-level certification for network professionals
Seven minibooks in this guide cover Secure Device Manager, Virtual Private Networks, IPv6, 2960 Switches, Cisco Network Assistant, Advanced EIGRP and OSPF, and Introduction to Wireless Networks
Covers the latest version of the exam, including the new voice, security and wireless components added in 2008
Packed with review questions to help you prepare
Includes more security and troubleshooting information
CD-ROM includes the popular Dummies Test Engine, an exclusive, fully customizable test-prep software package that features twice as many sample questions as the previous version
CCNA Certification All-In-One For Dummies is the preparation guide you need to earn your CCNA certification.
From the Back Cover
Pass your CCNA exam and boost your career — here's just what you need!The demand for Cisco Certified Network Associates is up, so rise to the challenge and get your certification! This guide covers all the stuff you need to know, and even helps get you in test-taking mode with plenty of practice questions on the CD. Plus, you can use this book as a reference after you get your CCNA certification and that great job!
Basic training — review LANs, WANs, Cisco hardware and software, TCP/IP, and network design
Switches and routers — learn to manage and troubleshoot Cisco switches and VLANs, STP, port trunking, Ether-Channel, VoIP, routers and routing protocols
Going wireless — plunge into wireless communication concepts and WLAN standards, operation modes, service sets, and Cisco Unified Wireless Networks architecture
Feel secure — study network security threats, best practices, access control lists, managing firewalls, and more
A wide net — learn about wide-area network connection types, DSL networks, data encapsulation protocols, and authentication methods
Open the book and find:
What hubs, bridges, switches, and routers are for
All about TCP/IP layers andprotocols
The purpose of a data-link switch
How to manage a router using Cisco IOS
What to do with WLAN service sets
How to handle common network security threats
How to manage VoIP on Cisco switches
Authentication methods for WANs
7 books in 1
Networking Basics
Managing TCP/IP
Switching with Cisco Switches
Routing with Cisco Routers
Wireless Networks
Network Security
Wide-Area Networks (WANs)
Book Details
Paperback: 1008 pages
Publisher: For Dummies (April, 2010)
Language: English
ISBN-10: 0470489626
ISBN-13: 978-0470489628
Download [14.2 MiB]