Microsoft SharePoint for Business Executives: Q&A Handbook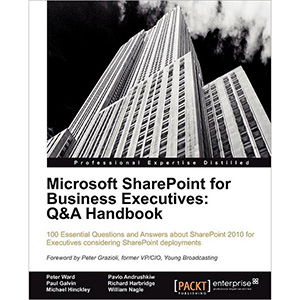 The depth and breadth of SharePoint as a technology can be daunting to any executive managing a SharePoint technical team or pondering the next steps for an upcoming SharePoint deployment within their organization.
This book demystifies SharePoint and its potential business value with simple, non-technical answers to the everyday SharePoint questions that business executives should be asking.
SharePoint is Microsoft's fastest selling product, and from the outside has the perceived ability to do anything for anyone in any business. Microsoft SharePoint for Business Executives: Q&A Handbook is the starting point in the SharePoint knowledge process. It asks and answers the simple questions that business and technical managers should all understand about the challenges and opportunities that executives face when deploying SharePoint.
Unlike other technical SharePoint guides, "Microsoft SharePoint for Business Executives: Q&A Handbook" is the ultimate primer in SharePoint education, helping business executives understand what it can do, and preparing you to make the right decisions.
Along the way you'll learn about cloud deployment approaches, managing your first SharePoint project, as well as taking a deep dive into how to define a SharePoint strategy and governance. With this Pocket Guide in hand, you'll be able to ask the right questions of your technical team and business stakeholders before pulling the SharePoint trigger.
What you will learn from this book
Get to the bottom of the business issue you really want SharePoint to solve
Think about governance from a simplified perspective which bridges the gap between the 'Wild Wild West' SharePoint environment, and documentation-heavy processes
Avoid wading through a myriad of versioning and deployment options, and understand how to deploy SharePoint to be aligned with a corporate strategy
Get to grips with both sides of what the Cloud can really do for SharePoint
Avoid the usual pitfalls of bringing your .NET developers up to speed quickly with SharePoint
Learn how to proactively spot the red flags of a SharePoint deployment
Have enough confidence in your technical SharePoint knowledge to assist the technical team, while focusing on making the right business decisions
Understand the things Microsoft doesn't tell you about SharePoint deployment
Take advantage of best practices from MVP authors to ensure your first SharePoint project is a successful one
Approach
"Microsoft SharePoint for Business Executives: Q&A Handbook" is a quick, non-technical reference for business executives who need to get up to speed with SharePoint and understand how to make the right decision about implementations. With an easy to absorb Q&A approach and short bite size chapters focused on defined SharePoint subjects, the book follows specific SharePoint situations drawn from real world experience, enabling you to learn from anecdotes and case studies along the way.
Who this book is for
"Microsoft SharePoint for Business Executives: Q&A Handbook" is the perfect companion for business executives or non-technical team leaders who don't want to trawl through a detailed, hands-on functionality guide to get up to speed with SharePoint. If you simply need to understand important implementation decisions or have the confidence to challenge your technical team on an approach, this book will prepare you to ask the right questions and make the right decisions.
No prior knowledge of SharePoint is required.
Book Details
Paperback: 236 pages
Publisher: Packt Publishing (May 2012)
Language: English
ISBN-10: 1849686106
ISBN-13: 978-1849686105
Download [11.5 MiB]