Application Administrators Handbook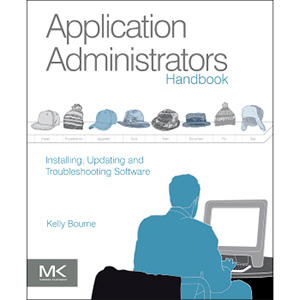 An application administrator installs, updates, optimizes, debugs and otherwise maintains computer applications for an organization. In most cases, these applications have been licensed from a third party, but they may have been developed internally. Examples of application types include enterprise resource planning (ERP), customer resource management (CRM), and point of sale (POS), legal contract management, time tracking, accounts payable/receivable, payroll, SOX compliance tracking, budgeting, forecasting and training. In many cases, the organization is absolutely dependent that these applications be kept running. The importance of application administrators and the level to which organizations depend upon them is easily overlooked.
Application Administrators Handbook provides an overview of every phase of administering an application, from working with the vendor before installation, the installation process itself, importing data into the application, handling upgrades, working with application users to report problems, scheduling backups, automating tasks that need to be done on a repetitive schedule, and finally retiring an application. It provides detailed, hands-on instructions on how to perform many specific tasks that an application administrator must be able to handle.
Learn how to install, administer and maintain key software applications throughout the product life cycle
Get detailed, hands-on instructions on steps that should be taken before installing or upgrading an application to ensure continuous operation
Identify repetitive tasks and find out how they can be automated, thereby saving valuable time
Understand the latest on government mandates and regulations, such as privacy, SOX, HIPAA, PCI, and FISMA and how to fully comply
Table of Contents
Chapter 1. What Does an Application Administrator Do?
Chapter 2. Design
Chapter 3. Architecture
Chapter 4. Features Common to Many Applications
Chapter 5. Specifics About Your Application
Chapter 6. Taking Responsibility for an Application
Chapter 7. Change Control Management
Chapter 8. Installing Software
Chapter 9. Support Software
Chapter 10. Updates and Patches
Chapter 11. Supporting Your Application
Chapter 12. Disaster Recovery
Chapter 13. Handling Problems with an Application
Chapter 14. Operational Activities
Chapter 15. Security
Chapter 16. The Server
Chapter 17. Performance Tuning
Chapter 18. The Network
Chapter 19. Your Organization
Chapter 20. Users
Chapter 21. Leveraging the Vendor Relationship
Chapter 22. The Government Gets Involved
Chapter 23. Windows Tools
Chapter 24. UNIX Tools
Chapter 25. Linux Tools
Chapter 26. Tools for Your Toolbox
Chapter 27. Third-Party Tools
Chapter 28. Troubleshooting Tips
Chapter 29. Things to Do or Know How to Do in Advance
Chapter 30. Things Will Happen That You Don't Want to Think About
Chapter 31. The End of Days—Decommissioning an Application
Chapter 32. Things Every Application Administrator Should KnowChapter 33 Education
Chapter 34. Parting Advice
Book Details
Paperback: 626 pages
Publisher: Morgan Kaufmann (October 2013)
Language: English
ISBN-10: 0123985455
ISBN-13: 978-0123985453
Download [24.5 MiB]