Microsoft Office 2010: Advanced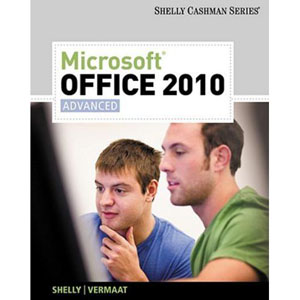 Introduce your students to the new generation of Microsoft Office with the new generation of Shelly Cashman Series books! For the past three decades, the Shelly Cashman Series has effectively introduced computer skills to millions of students. With Office 2010, we're continuing our history of innovation by enhancing our proven pedagogy to reflect the learning styles of today's students. In MICROSOFT OFFICE 2010: ADVANCED you'll find features that are specifically designed to engage students, improve retention, and prepare them for future success. Our trademark step-by-step, screen-by-screen approach now encourages students to expand their understanding of the Office 2010 software through experimentation, exploration, and planning ahead. Brand new end of chapter exercises prepare students to become more capable software users by requiring them to use critical thinking and problem-solving skills to create real-life documents.
A step-by-step, screen-by-screen approach allows students to successfully learn and retain information to be used in their personal and professional lives
Table of Contents
MICROSOFT WORD 2010.
1. Creating a Document with a Title Page, Lists, Tables, and a Watermark.
2. Using a Template to Create a Resume and Sharing a Finished Document.
3. Generating Form Letters, Mailing Labels, and a Directory.
4. Creating a Newsletter with a Pull-Quote and Graphics.
MICROSOFT POWERPOINT 2010.
1. Working with Information Graphics.
2. Collaborating on and Delivering a Presentation.
3. Navigating Presentations Using Hyperlinks and Action Buttons.
4. Creating a Self-Running Presentation Containing Animation.
MICROSOFT EXCEL 2010.
1. Financial Functions, Data Tables, and Amortization Schedules.
2. Creating, Sorting, and Querying a Table.
3. Working with Multiple Worksheets and Workbooks.
4. Creating Templates, Importing Data, and Working with SmartArt, Images, and Screen Shots.
MICROSOFT ACCESS 2010.
1. Creating Reports and Forms.
2. Multitable Forms.
3. Advanced Report Techniques.
4. Using SQL.
MICROSOFT OUTLOOK 2010.
1. Managing Contacts and Personal Contact Information with Outlook.
Appendices.
A: Project Planning Guidelines.
B: Publishing Office 2010 Web Pages Online.
C: Saving to the Web Using Windows Live SkyDrive.
Capstone Project.
Book Details
Paperback: 1216 pages
Publisher: Course Technology (December 2010)
Language: English
ISBN-10: 1439078548
ISBN-13: 978-1439078549
Download [76.2 MiB]