Microsoft Forefront UAG 2010 Administrator's Handbook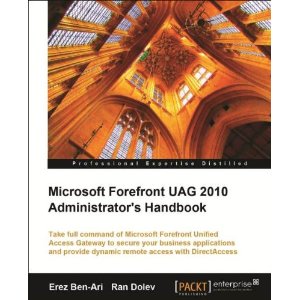 Microsoft Forefront Unified Access Gateway (UAG) is the latest in a line of Application Publishing (Reverse Proxy) and Remote Access (VPN) Server products. The broad set of features and technologies integrated into UAG makes for a steep learning curve. Understanding all the features and abilities of UAG is a complex task that can be daunting even to experienced networking and security engineers.
This book is the first to be dedicated solely to Microsoft Forefront UAG. It guides you step-by-step throughout all the stages of deployment, from design to troubleshooting. Written by the absolute experts who have taken part of the product's development, official training and support, this book covers all the primary features of UAG in a friendly style and a manner that is easy to follow. It takes you from the initial planning and design stage, through deployment and configuration, up to maintenance and troubleshooting.
The book starts by introducing UAG's features and and abilities, and how your organization can benefit from them. It then goes on to guide you through planning and designing the integration of the product into your own unique environment. Further, the book guides you through the process of publishing the various applications, servers and resources – from simple web applications to complex client/server based applications. It also details the various VPN technologies that UAG provides and how to take full advantage of them. The later chapters of the book educate you with common routine "upkeep" tasks like monitoring, backup and troubleshooting of common issues. Finally, the book includes an introduction to ASP, which some of the product's features are based on, and can help the advanced administrator with enhancing and customizing the product.
Explore Microsoft Forefront Unified Access Gateway's wide range of features and abilities to publish applications to remote users or partners, and provide remote-access to your network with world-class security.
What you will learn from this book
Understand how UAG can help your organization with secure remote access.
Plan and design the integration of UAG into your unique environment.
Create trunks and publish all kinds of applications on them.
Enable VPN access for multiple platforms.
Design and implement DirectAccess for your organization.
Manage endpoint security with advanced policies.
Monitor, maintain and secure your Microsoft server.
Integrate UAG with multiple infrastructures and platforms.
Discover various types of applications UAG can publish, and how to publish them.
Learn how to provide remote access to your users or partners using SSL technology.
Take advantage of single sign-on with low administrative overhead and high security.
Integrate UAG with existing authentication infrastructure like Active Directory.
Gain knowledge of advanced endpoint management for ultimate security in a world of unknowns.
Perform troubleshooting and solve problems like the pros.
Integrate UAG with AD FS V2 for maximum corporate flexibility and security.
Discover how to publish Microsoft Office SharePoint Server 2007 and 2010 securely
Find out how UAG interacts with TMG 2010 (the successor to ISA server 2004)
Approach
This book is a hands-on guide, describing concepts, ideas and terminology related to UAG and related technologies. The book starts with a discussion of terms that UAG technology is based on, and proceeds with step-by-step guidance for performing the various tasks related to UAG's core features. Each topic is preceded by a discussion of considerations that the administrator and the organization needs to go through to prepare for the task at hand, and includes plenty of screenshots illustrating what the administrator should expect to see on-screen, with real-life examples of configuration options.
Who this book is written for
If you are a Networking or Security engineer who intends to integrate UAG into the organization network, then this book is for you. You need no experience with UAG or its predecessors, though basic understanding of Networking and Windows Server management and engineering is required. Experience with security systems like Firewalls would also help you to better understand some of the topics covered by this book.
Book Details
Paperback: 484 pages
Publisher: Packt Publishing (January, 2011)
Language: English
ISBN-10: 1849681627
ISBN-13: 978-1849681629
Download [16.8 MiB]