Microsoft Dynamics CRM 2011 Step by Step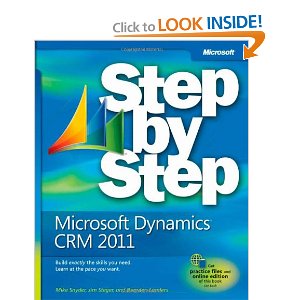 Welcome to Microsoft Dynamics CRM 2011 Step by Step! Most likely, your organization has implemented—or is considering implementing—a Microsoft Dynamics CRM system, and you're ready to learn more about what the software can do.
Whether you're a sales associate following up with your top accounts, a marketing professional reaching out to prospects and customers, a customer service representative resolving customer requests and issues, or an executive manager seeking to analyze and understand all of your organization's customer interactions, Microsoft Dynamics CRM can help you do business better.
The intent of this book is to show you how to use key features in the software to understand your customers better, increase sales and productivity, and improve customer satisfaction. It's important to note that Microsoft Dynamics CRM allows administrators to easily customize the forms, fields, and other options in the software, so some of the names used in this book might not match your environment.
Table of Contents
Part 1 Overview
1 Introduction to Microsoft Dynamics CRM
2 Getting Around in Microsoft Dynamics CRM
3 Working with Accounts and Contacts
4 Working with Activities and Notes
5 Using Microsoft Dynamics CRM for Outlook
Part 2 Sales and Marketing
6 Working with Leads and Opportunities
7 Using Marketing Lists
8 Managing Campaigns and Quick Campaigns
9 Working with Campaign Activities and Responses
Part 3 Service
10 Tracking Service Requests
11 Using the Knowledge Base
12 Working with Contracts and Queues
Part 4 Reporting and Analysis
13 Working with Filters and Charts
14 Using Dashboards
15 Using the Report Wizard
16 Using Advanced Find
17 Reporting with Excel
Part 5 Data Management
18 Bulk Data Importing
Book Details
Paperback: 448 pages
Publisher: Microsoft Press (February 2011)
Language: English
ISBN-10: 0735648905
ISBN-13: 978-0735648906
Download [31.0 MiB]