Microsoft Dynamics AX 2012 Security – How to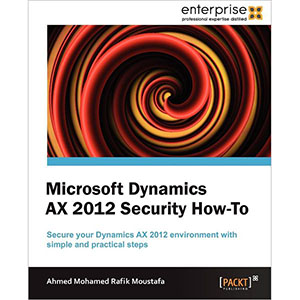 Securing ERP is the main issue nowadays; it is not only about bits and bytes of network traffic, but also about business transactions, users' privileges and access rights. Hackers raise their awareness to hack and attack ERP systems as the information becomes the vital weapon these days. So securing your ERP is not only about internal control and auditing procedures, but also to protect your entire system against outsiders or unauthorized users. It's the time to secure your ERP system.
"Microsoft Dynamics AX 2012 Security How-To" is a practical, hands-on guide that provides you with a clear step-by-step exercise, which will help you, achieve the practical experience to implement the new security features within MS Dynamics AX 2012.
This book is divided into three chapters, the first chapter talking about the security architect of Dynamics AX, second chapter considered as the foundation level security, and the last chapter shows the advanced level security.
You will learn how to assign users to security roles and vice-versa, you will also take a look at adding security role, as well as how to add privileges to an existing role, create permissions using AOT and securing your organization model. If you want to take the advantage of the new security features of MS Dynamics AX2012, then this is the book for you.
You will have the practical experience of the main security features in Microsoft Dynamics AX 2012 by following the guide steps and the full-receipts in a fast and easy way.
What you will learn from this book
Learn to grant user access to specific company
Add a security role
Add privileges to an existing role
Understand how to assign user to role
Master how to tracking user related information
Get to grips with Securing Organization Model
Develop extensible data security policies
Create permission using AOT
Deploying changes in Enterprise portal using AOT
Approach
Written in simple, easy to understand format with lots of screenshots and insightful tips and hints.
Who this book is written for
If you are an AX implementer, AX developer, network administrator or IT Person charged with configuring Dynamics AX2012 in your company, then this book is for you. The book assumes that you are familiar with the basic security terminologies. Also. the book provides you with a good overview and covers details that makes it suitable for beginners, intermediate and advanced readers.
Book Details
Paperback: 76 pages
Publisher: Packt Publishing (November 2012)
Language: English
ISBN-10: 1849687501
ISBN-13: 978-1849687508
Download [8.7 MiB]