Microsoft Application Virtualization Advanced Guide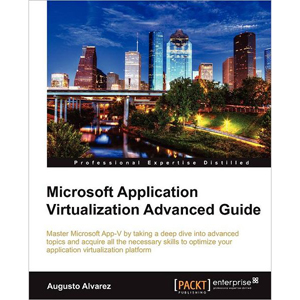 Microsoft's Application Virtualization technology has been emerging as one of the main platforms in application virtualization. This is mainly because more and more organizations are thinking about application virtualization as a valid implementation; also because App-V represents probably the most attractive solution. App-V introduces a new and efficient way to improve operating systems and application life cycles in organizations. However, if we want to maximize our investment we must learn that every scenario and application differs from another, as does complexity.
With Microsoft Application Virtualization Advanced Guide administrators will find detailed topics for understanding App-V components, architecture and implementation models; as well as step-by-step guidance to master App-V processes. There is also guidance on integrating App-V with other robust platforms like VDI, SCCM 2012 and even virtualizing server applications.
Microsoft Application Virtualization Advanced Guide will start by giving readers the means to discover unfamiliar topics in App-V, as well as understanding App-V's architecture. By doing so, it will provide the baseline needed before shifting to advanced topics in App-V, like complex scenarios for sequencing and deploying applications.
The book details scripting within App-V, as well as handling the platform using the command line; there is a complete review of troubleshooting installations, sequencing and deploying applications.
Integration is another key component we will cover by introducing App-V in VDI and SCCM 2012. Server applications are not forgotten with Server App-V, using this book the reader will have a detailed understanding, with how-to steps to virtualize server applications.
What you will learn from this book
Perform sequencing in complex environments including scenarios where App-V is normally not supported
Deploy your applications using HTTP/S or configure standalone modes for local and SMB Streaming in complex scenarios such as adjusting communication ports for application delivery
Get hands on in how to implement the scripting process within App-V applications and also review how to use App-V command lines
Troubleshoot App-V
Scale-up App-V implementations by using failover and load balanced scenarios
Review App-V integration with VDI and Remote Desktop Services
Integrate App-V with SCCM 2012
Examine 3rd party tools available in App-V
Approach
A practical tutorial containing clear, step-by-step explanations of all the concepts required to understand the technology involved in virtualizing your application infrastructure.
Each chapter uses real-world scenarios so that the readers can put into practice what they learn immediately and with the right guidance. Each topic is written defining a common need and developing the process to solve it using Microsoft App-V.
Who this book is for
This book is for system administrators or consultants who want to master and dominate App-V, and gain a deeper understanding of the technology in order to optimize App V implementations. Even though the book does not include basic steps like installing App-V components or sequencing simple applications; application virtualization beginners will receive a comprehensive look into App-V before jumping into the technical process of each chapter.
Book Details
Paperback: 474 pages
Publisher: Packt Publishing (March 2012)
Language: English
ISBN-10: 1849684480
ISBN-13: 978-1849684484
Download [37.5 MiB]