Meaningful Use and Beyond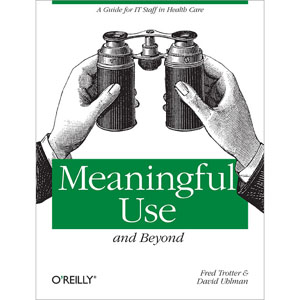 Ready to take your IT skills to the healthcare industry? This concise book provides a candid assessment of the US healthcare system as it ramps up its use of electronic health records (EHRs) and other forms of IT to comply with the government's Meaningful Use requirements. It's a tremendous opportunity for tens of thousands of IT professionals, but it's also a huge challenge: the program requires a complete makeover of archaic records systems, workflows, and other practices now in place.
This book points out how hospitals and doctors' offices differ from other organizations that use IT, and explains what's necessary to bridge the gap between clinicians and IT staff.
Get an overview of EHRs and the differences among medical settings
Learn the variety of ways institutions deal with patients and medical staff, and how workflows vary
Discover healthcare's dependence on paper records, and the problems involved in migrating them to digital documents
Understand how providers charge for care, and how they get paid
Explore how patients can use EHRs to participate in their own care
Examine healthcare's most pressing problem—avoidable errors—and how EHRs can both help and exacerbate it
Table of Contents
Chapter 1 Introduction
Chapter 2 An Anatomy of Medical Practice
Chapter 3 Medical Billing
Chapter 4 The Bandwidth of Paper
Chapter 5 Herding Cats: Healthcare Management and Business Office Operations
Chapter 6 Patient-Facing Software
Chapter 7 Human Error
Chapter 8 Meaningful Use Overview
Chapter 9 A Selective History of EHR Technology
Chapter 10 Ontologies
Chapter 11 Interoperability
Chapter 12 HIPAA: The Far-Reaching Healthcare Regulation
Chapter 13 Open Source Systems
Appendix Meaningful Use Implementation Assessment
Book Details
Paperback: 248 pages
Publisher: O'Reilly Media (October 2011)
Language: English
ISBN-10: 1449305024
ISBN-13: 978-1449305024
Download [6.1 MiB]