Management in India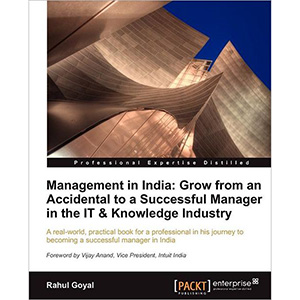 Most managers are untrained and need a foundation of management thought processes and frameworks. The market has books that are very theory heavy and generalized, and lack a certain focus. Nothing seen so far has the right context and balance of management theory and real world practical information.
Written by Rahul Goyal, a top manager at an IT firm, this book is an easy-to-read map to help you navigate the journey of being a manager in the knowledge industry. It will increase your effectiveness in applying skills needed daily, like hiring, communicating, motivating and planning. Learn from examples that you can relate to, and theories explained in context.
The books starts with raising a number of questions that knowledge industry managers face everyday. Then it  gives detailed explanation of the roles and responsibilities of being a manager and maps the classic Herzberg's ten managerial roles into today's knowledge industry context. Next it focuses on the transition from being an individual contributor to a manager, the typical issues one faces and how to make it easier in this transition phase. The next chapter digs into what is required to be a manager and the behaviours required for being a manager in India.
We then dive into the key aspects of being a manager such as how to build a team and create team spirit, understanding the process of hiring and figuring out the adequate compensation for a new hire, managing the critical campus hiring process, and understanding what motivates a knowledge worker.
Then the book covers the basic motivation theories, explained in an Indian context. The book will get into the details of performance evaluation processes and the common pitfalls of the same. You will learn how to plan for personal effectiveness and an execution plan for delivery.
Finally, we look beyond the basics of managing and explore how a manager can grow. It's easy to get lost in the daily hustleand bustle and forget the essentials that can take you past your current career level. We look through some simple dos' and don'ts and keep growth in perspective while being a manager.
What you will learn from this book
Grow from an individual Contributor to a Manager
Understand the top skills, traits and competencies expected of a Manager such as good communication, decision making, performance management, problem solving, easy-to-approach, and more
Understand the effects of attrition and how to successfully manage it
Understand the communication needs of your organization and role, set a communication model for your team, and deal with communication in today's multi-cultural team environment
Build and nurture a positive team spirit to maximize productivity
Improve your management skills and grow as a manager by delivering consistently, getting diverse experience on your projects, networking with people, taking risks and more
Master the nuances of Planning in India
Approach
This book focuses on the real-world understanding of management concepts so as to maximize learning. It focuses on the various aspects of management covering the common pitfalls and practical insights. Although it explains management frameworks using an Indian context and scenarios, these management principles remain the same across all sectors and so people from other sectors will also benefit from this book.
Who this book is for
MNCs who want to effectively manage employees of their Indian branches
New Managers
Aspiring managers, and soon-to-be managers
All managers who wish to be more effective by better understanding the management frameworks and how they apply to the Indian IT and ITes sectors – IT Product Development, Services, Backend processing, and BPO
Management principles remain the same across all sectors and so people from other sectors will also benefit from this book
Book Details
Paperback: 328 pages
Publisher: Packt Publishing (May 2012)
Language: English
ISBN-10: 1849682623
ISBN-13: 978-1849682626
Download [3.4 MiB]