CAIA Level I, 2nd Edition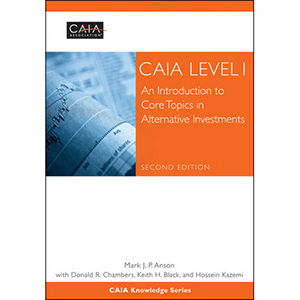 The official study text for the Level I Chartered Alternative Investment Analyst (CAIA) exam
The Chartered Alternative Investment Analyst (CAIA) designation is the financial industry's first and only globally recognized program that prepares professionals to deal with the ever-growing field of alternative investments. The second edition of CAIA Level I: An Introduction to Core Topics in Alternative Investments contains comprehensive insights on the alternative investment issues a potential Level I candidate would need to know about as they prepare for the exam.
The information found here will help you build a solid foundation in alternative investment markets—with coverage of everything from the characteristics of various strategies within each alternative asset class to portfolio management concepts central to alternative investments.
Uses investment analytics to examine each alternative asset class
Examines quantitative techniques used by investment professionals
Addresses the unique attributes associated with the alternative investment space
Offers an online study guide outlining learning objectives and keywords
This book is a must-have resource for anyone contemplating taking the CAIA Level I exam. So if you're ready to take your first step toward the CAIA charter, take the time to understand the insights offered here.
Table of Contents
Part I: Introduction to Alternative Investments
Chapter 1. What Is an Alternative Investment?
Chapter 2. The Environment of Alternative Investments
Chapter 3. Statistical Foundations
Chapter 4. Risk, Return, and Benchmarking
Chapter 5. Correlation, Alternative Returns, and Performance Measurement
Chapter 6. Alpha and Beta
Chapter 7. Hypothesis Testing in Alternative Investments
Part II: Real Assets
Chapter 8. Land, Infrastructure, and Intangible Real Assets
Chapter 9. Real Estate Fixed-Income Investments
Chapter 10. Real Estate Equity Investments
Part III: Hedge Funds
Chapter 11. Introduction to Hedge Funds
Chapter 12. Hedge Fund Returns and Asset Allocation
Chapter 13. Macro and Managed Futures Funds
Chapter 14. Event-Driven Hedge Funds
Chapter 15. Relative Value Hedge Funds
Chapter 16. Equity Hedge Funds
Chapter 17. Funds of Hedge Funds
Part IV: Commodities
Chapter 18. Commodity Futures Pricing
Chapter 19. Commodities: Applications and Evidence
Part V: Private Equity
Chapter 20. Introduction to Private Equity
Chapter 21. Equity Types of Private Equity
Chapter 22. Debt Types of Private Equity
Part VI: Structured Products
Chapter 23. Credit Risk and the Structuring of Cash Flows
Chapter 24. Credit Derivatives
Chapter 25. Collateralized Debt Obligations
Part VII: Risk Management and Portfolio Management
Chapter 26. Lessons from Hedge Fund Failures
Chapter 27. Risk Analysis
Chapter 28. Due Diligence of Fund Managers
Chapter 29. Regression, Multivariate, and Nonlinear Methods
Chapter 31. Portfolio Management, Alpha, and Beta
Book Details
Hardcover: 896 pages
Publisher: Wiley; 2nd Edition (April 2012)
Language: English
ISBN-10: 1118250966
ISBN-13: 978-1118250969
Download [7.3 MiB]