Make: Ultimate Kit Guide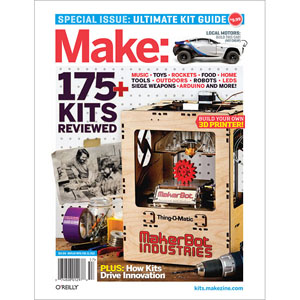 MAKE's Ultimate Kit Guide brings you the top kits of all kinds, from beginner's crafts to wooden kayaks to advanced robotics and everything in between! Whether you need a gift for the do-it-yourselfer who loves making things, or you want to find the best kits to build yourself, this special issue shows the way, with reviews of 175+ kits selected by the editors of MAKE magazine. In this special issue, we cover:
RobotsElectronics & MicrocontrollersLEDsR/C VehiclesTools & WorkshopOutdoor & SportClocksHome & ShelterScienceToys & GamesCraftSiege & BallisticsWheelsRocketsKit Party!FoodBeveragesAudio GearMusical Instruments
In MAKE Ultimate Kit Guide 2012, you'll also find:
The Rally Fighter, the radical DIY car you build at the micro-factory
How kits drive innovation, from steam engines to computers to 3D printing and microcontrollers
DIY Drones – autonomous plane and copter kits
Classic Heathkits and Erector Sets
Most Dangerous Kits, and more
At MAKE we're crazy about kits. They're fun, inspiring, and they are great gifts for any maker. In this special MAKE issue we've searched out over 175 of the top kits of all kinds and rated them on quality, instructions, community, and more. Find a kit worth making this season; some of which you never knew existed!
Find the top rated kits for Robots, Rockets, Food, Electronics, Home, Tools, Arduino, Toys, Crafts, R/C, Outdoors, Siege Weapons, and much more.
And check out our new Make: Kit Reviews website, your trusted online source to learn about the best kits on the market.
Book Details
Paperback: 97 pages
Publisher: O'Reilly Media / Make (November 2011)
Language: English
ISBN-10: 1449323723
ISBN-13: 978-1449323721
Download [41.1 MiB]