Make: Technology on Your Time Volume 33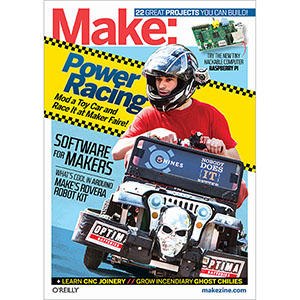 MAKE Volume 33 has great projects for makers of all skill levels — Arduino projects, internet gadgets, food, music, personal fabrication, astronomy, electronics, and more. In our special Codebox section you'll learn about software of interest to makers, including circuit board design, 3D CAD and printing, microcontrollers and creative coding, and programming for kids, featuring Microsoft's SmallBasic, Scratch, and the extremely popular Kickstarter-funded project Makey Makey. And you'll meet fascinating makers, like the maniacs behind the popular Power Wheels Racing events at Maker Faire.
You'll get 20 great DIY projects like the Optical Tremolo guitar effect, "Panjolele" cake-pan ukelele, Wii Nunchuk Mouse, CNC joinery tricks, treat-dispensing cat scratching post, laser-cut flexing wooden books, LED photography lights, trick treasure box, brewing sake, growing the incredibly hot "ghost chili" pepper, Arduino waveform generation, and the Dryer Messenger and Cloudfridge smart home applicance projects.
About the Author
Mark Frauenfelder is a writer and illustrator living in Los Angeles, and the editor of MAKE. He is the cofounder of the popular Boing Boing weblog and was an editor at Wired from 1993-1998.

Book Details
Paperback: 160 pages
Publisher: O'Reilly Media / Make (January 2013)
Language: English
ISBN-10: 1449327656
ISBN-13: 978-1449327651
Download [23.9 MiB]