Make: School's Out Summer Fun Guide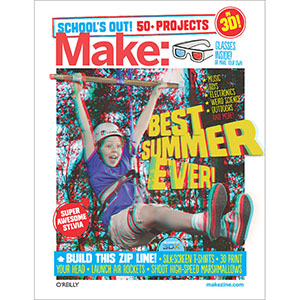 MAKE magazine's special "Schools Out!" issue features over 50 projects to make and is photographed in 3D with glasses bound inside. The issue is jam-packed with original (and thrilling!) activities photographed in 3D. 50+ projects include electronics, music, 3D printing, toys, snacks, weird science, outdoors, and much more.
The projects are divided into popular categories including Combat, Outdoors, Rainy Day, Craft, Music, Pranks, Electronics, and Weird Science. Maker Faire alum Barry Rothstein photographed the 3D issue with his own homemade 3D rig. 3D glasses are bound into every issue, and Some of the featured projects rendered in 3D include:
Shooting 3D movies and photos
Building a marshmallow shooter
Installing a backyard zip line
Making chocolate banana pops
Silk-screening wearables
Making a cigar box guitar
About the Author
"How to Make a Maker Faire" was conceived and published by the Maker Media team behind Make and Craft magazines, Maker Faire, makezine.com, craftzine.com, Make Weekend Projects videos, the Maker Shed store, and Make Project line of DIY books. Maker Media is focused on uniting, inspiring, informing and entertaining a global community of people who pursue DIY projects on their own time. Maker Media is a division of O'Reilly Media, Inc.
Book Details
Paperback: 116 pages
Publisher: O'Reilly Media / Make (May 2012)
Language: English
ISBN-10: 1449332250
ISBN-13: 978-1449332259
Download [40.9 MiB]