Make: Technology on Your Time Volume 32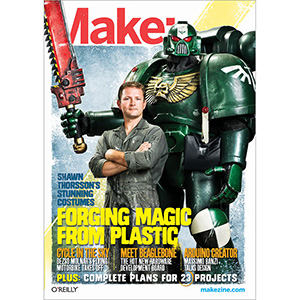 Forget duct tape and baling wire — now makers can design and manufacture things as beautiful as Apple and as slick as Dyson and Audi. We'll show you how to conceive and visualize great-looking projects with our speed course in industrial design — then build them with tools like vacuum forming and laser cutting, and finish them with cases and interfaces that are artful, ergonomic, and irresistible.
Plus you'll get 23 great DIY projects like the Nellie Bly Smoker, the Awesome Button, the World Control Panel, LED Little Big Lamp, Laminar-Flow Water Fountain, and Keyless Lock Box, and meet amazing makers like costumer Shawn Thorsson, flying motorcycle builder Deszo Molnar, and more.
Table of Contents
About the Author
Mark Frauenfelder is a writer and illustrator living in Los Angeles, and the editor of MAKE. He is the cofounder of the popular Boing Boing weblog and was an editor at Wired from 1993-1998.

Book Details
Paperback: 176 pages
Publisher: Maker Media, Inc (October 2012)
Language: English
ISBN-10: 1449327648
ISBN-13: 978-1449327644
Download [46.8 MiB]