Learning Quartz Composer (Book + Video Lessons)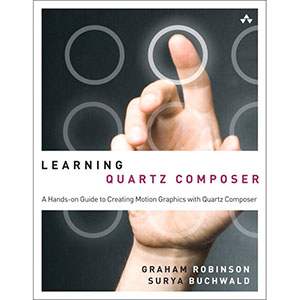 Create Amazing Real-Time Motion Graphics with Quartz Composer!
Apple's Quartz Composer makes it amazingly easy to create real-time graphics of all kinds: for screensavers, animations, kiosk art, film effects, Dashboard Widgets, graphically-rich apps, and more. But few content creators use QC, because they've had practically no useful help–until now. In this book/DVD bundle, two renowned VJs who've pushed this tool to the limit show you how to do it, too!
You needn't be a technical expert: Graham Robinson and Surya Buchwald introduce each concept through a hands-on project, with videos demonstrating every step. They start extremely simple, offering beautiful visual feedback and encouraging you to freely explore. The video and text work together to help you build mastery fast, as you create everything from data-driven effects to compelling live performance visuals!
Coverage includes
Mastering Quartz Composer's powerful interface
Grabbing live inputs from music or cameras for unique interaction and improvisation
Outputting video files for everything from smartphone screens to HD video edits
Using built-in image filters to add visual effects
Creating organic motion with LFOs, interpolation, and trackballs
Fixing problems and figuring out what you did wrong
Making rain, fire, and other cool stuff with particles
Integrating MIDI musical instruments and other audio resources
Mastering lighting and timelines
Building richer environments with replication, iteration, and 3D modeling
Pushing the boundaries with secret patches, CoreImage filters, and GLSL
If you're a motion graphics designer, filmmaker, VJ, artist, interactive programmer, Cocoa developer, or any other type of "Maker," this book will guide you from acolyte to wizard in no time… and it just might be the most fun instructional you'll ever read!
Table of Contents
Part I: Quartz Beginner
Chapter 1. What Is Quartz Composer and Why Should I Learn It?
Chapter 2. The Interface and Playing a Movie
Chapter 3. Adding Visual Effects (Pimping It Out)
Chapter 4. Using LFOs, Interpolation, and Trackballs to Move Stuff
Chapter 5. Debugging (When Things Go Wrong)
Chapter 6. Particles (Little Flying Bits of Bling)
Chapter 7. Mouse Input (Making Your Mouse Do Cool Stuff)
Chapter 8. MIDI Interfacing (Getting Sliders and Knobs Involved)
Chapter 9. Interacting with Audio (Get Stuff Grooving to the Beat)
Chapter 10. Lighting and Timelines (The Dark Side of QC)
Chapter 11. Replication/Iteration (The Bomb)
Part II: Quartz Ninja
Chapter 12. Modeling Complex Environments (3D Cities)
Chapter 13. Create a Cocoa App (Send Quartz to Your Friends)
Chapter 14. Create a Screensaver
Chapter 15. Secret Patches, Core Image Filters, and GLSL (Pushing the Boundaries)
Book Details
Paperback: 192 pages
Publisher: Addison-Wesley Professional (July 2012)
Language: English
ISBN-10: 0321636945
ISBN-13: 978-0321636942
Download [19.1 MiB]