Balsamiq Wireframes Quickstart Guide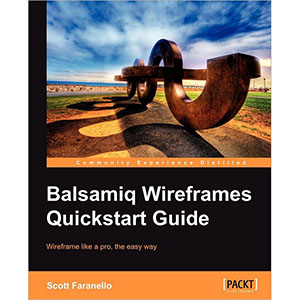 Balsamiq Mockups is an easy to use, engaging tool for anyone looking to strategize and brainstorm ideas around product design and information architecture. With Balsamiq, you can strategize, create, prototype and present your ideas clearly and effectively to audiences large and small.
"Balsamiq Wireframes Quickstart Guide" is a fast paced and easy to follow instructional book that gets you up and running quickly while challenging you to be the best you can be using the tool. With this book in hand, it will take only minutes to present an idea on screen.
Wireframing is one of the key steps of effective user interface design and architecture. Finding the right tools to get your thoughts onto the page quickly and clearly is vital to your success. This book will have you on your way in no time. "Balsamiq Mockups Quickstart Guide" will walk you through the entire application in a fast, simple and engaging way. You will be presented with wireframe samples, exercises and real-world examples that will engage, challenge and enable you to become an expert wireframer and Balsamiq user. Whether you are looking to communicate ideas to your team, a client, a product manager, an IT developer, or if you are wireframing for the fun of it, this book is for you. By the time you are finished, you will have mastered the tools to do whatever your mind can think up. The rest is up to you.
What will you learn from this book
The ins-and outs of the Balsamiq Mockups application
How to think about layout and design
How to approach wireframing from the user experience perspective
How to create simple, clickable prototypes
How to communicate your ideas clearly to large, diverse teams
How to present your work professionally
Where to find valuable resources to expand your knowledge
Professional templates to download and build upon, using real-world examples and exercises.
Approach
This book is a step-by-step guide to learning Balsamiq Mockups and wireframing in general. Written in an engaging, easy to follow style and flow, readers can utilize free, downloadable templates that teach by building upon previous chapters until each lesson is learned and applied, ensuring true learning, not just memorization.
Who this book is written for
If you are serious about wireframing, designing and communicating your ideas clearly and quickly, then this book is for you.
Book Details
Paperback: 142 pages
Publisher: Packt Publishing (September  2012)
Language: English
ISBN-10: 1849693528
ISBN-13: 978-1849693523
Download [10.8 MiB]