Learn to Solder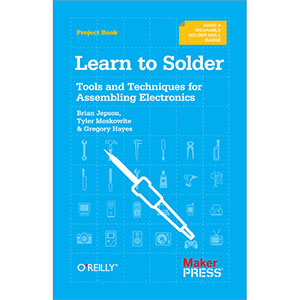 Product Description
Learn the fundamentals of soldering—and pick up an essential skill for building electronic gadgets. You'll discover how to preheat and tin your iron, make a good solder joint, desolder cleanly (when things don't quite go right), and how to use helping hands to hold components in place.
This concise book is part of MAKE's Getting Started with Soldering Kit. Using the tools in the kit and some electronic components, you can practice soldering while making fun blinky objects. Then show the world you just learned a new skill by wearing the Learn to Solder Skill Badge.
Learn how to prepare your workspace
Get to know the components you'll work with
Use the best methods for soldering components in place
Experience the perfect solder joint
Know how to desolder when things don't work the first time
Heat up the iron and start soldering today!
Table of Contents
Chapter 1. Getting the Workspace Ready
Chapter 2. How to Solder
Chapter 3. Desoldering
Chapter 4. What's Next?
Book Details
Paperback: 52 pages
Publisher: O'Reilly Media / Make (May 2012)
Language: English
ISBN-10: 1449337244
ISBN-13: 978-1449337247
Download [59.4 MiB]