Junos Enterprise Routing, 2nd Edition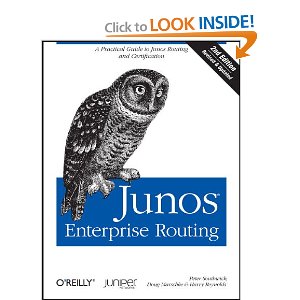 Considered the go-to study guide for Juniper Networks enterprise routing certification exams, this book offers you unparalleled coverage of all the services available to Junos administrators—including the most recent set of flow-based security services and design guidelines that incorporate services and features of the MX, SRX, and EX network devices.
Its emphasis on practical solutions also makes this book an ideal on-the-job reference for design, maintenance, and troubleshooting issues in the enterprise. Simply put, this updated edition is the most comprehensive and authoritative resource for Juniper enterprise and edge routing environments you will find.
Topics include:
Design guidelines for the entire Juniper enterprise router lineup (M-series, MX Mid-Range series, and SRX)
Junos interfaces, with advanced troubleshooting techniques
The IGP and BGP routing protocols and the implementation of routing policies
Security concepts, and the tools to deploy them
Layer 2 services, IP Class of Service, and IP Multicast with working case studies of each
Coverage of flow-based Junos security services
About the Author
Peter Southwick is a Senior Network Engineer at Proteus Networks, providing both professional services support and training for Proteus Networks customers. He is a JNCI, holds JNCIE-M #473 and other Juniper certifications in routing and security. He is an author of Telecommunications: a Beginners Guide, co-author of ISDN: Concepts, Facilities and Services (both published by McGraw Hill), and contributing author to The Handbook of Local Area Networks (CRC Press).
Doug Marschke is an engineering graduate from the University of Michigan currently a principal partner at Proteus Networks. He is JNCIE-ER #3, JNCIE-M #41 and JNCIS-FW, JNCIA certified. He is a writer of various Juniper certification exams and co-writer of the JNCIE Enterprise Exam. He has also authored the JUNOS Enterprise Routing book, and coming in 2009, JUNOS Enterprise Switching. Doug currently spends his time working with both service providers and enterprises to optimize their IP networks for better performance, cost and reliability. He has spent the last 6 month working on a next generation government satellite network. He also flies around the world and back sharing his knowledge in a variety of training classes and seminars with topics ranging from troubleshooting, design and certification preparation. If Doug is not on the road, you can find him at his bar in San Francisco, Taco Shop at Underdogs, discussing a wide variety of topics. He has also recently started a new company Funny How Films, producing independent films such as Amsterdam Heavy and Mad Cow.
Harry Reynolds is a senior test engineer in the JUNOS software Core protocols group at Juniper, where he also has worked on courseware and certification offerings. He is CCIE # 4977, and JNCIE # 3, and holds various other industry and teaching certifications. Harry was a contributing author on the Juniper Network Complete Reference (McGraw- Hill, 2002), and wrote the JNCIE and JNCIP Study Guides (Sybex Books 2003).
Book Details
Paperback: 768 pages
Publisher: O'Reilly Media; 2nd Edition (June 2011)
Language: English
ISBN-10: 1449398634
ISBN-13: 978-1449398637
Download [17.0 MiB]