Oracle Enterprise Manager Cloud Control 12c: Managing Data Center Chaos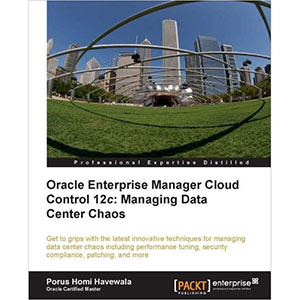 Data centers around the world are experiencing an unprecedented era of growth due to expanding data volumes. There is also a corresponding increase in the number of databases and applications. In such rapid-growth centers, it is inevitable that fighting fires daily becomes a common occurrence. There is often no controlled method of performance management, neither is rapidly changing configuration information collected.
With the lack of automation and control, Data Centers do not often realize their intended cost-effectiveness and regress into a chaotic and uncontrolled day-to-day type of existence. This was the case until Oracle Enterprise Manager started being used as an Enterprise-wide central management solution, changing the whole game in the process.
In this brand new book by Porus Homi Havewala, one of the leading experts in the Oracle space, you will be introduced to the all-encompassing world of Oracle Enterprise Manager Cloud Control 12c, Oracle's premier product for managing and monitoring the Enterprise space. Drawing from the author's many years of experience in the real world, the book brings together the major capabilities of the latest Enterprise Manager software and demonstrates how to ease the growing pains of Data Centers.
The book takes you on a descriptive journey of what issues are normally experienced in the Data Center, and how Oracle Enterprise Manager Cloud Control 12c manages to address and resolve many of the issues.
The book introduces the reader to the typical chaos in Data Centers and discusses the way these common issues are normally resolved, by manual labor or manual scripting using extensive human resources. Then it will show you how Cloud Control 12c aids in Database Performance Management, Configuration Management, Security Compliance, Automated Provisioning, Automated Patching and Database Change Management.
What will you learn from this book
Get started straight away by installing Enterprise Manager 12c or upgrading from earlier versions
Learn how to discover components automatically, collect configuration information and allow configuration comparisons
Enforce security compliance with frameworks, standards and rules including real-time configuration change detection
Master Oracle Enterprise Manager techniques for automated provisioning and patching, using the new Designer/Operator role separation
Understand the powerful database change management capabilities of Enterprise Manager
Take advantage of Oracle Enterprise Manager to discover, monitor and manage the powerful Exadata Database Machine
Use Oracle Enterprise Manager 12c Cloud Control effectively to resolve typical Data Center chaos
Learn about the new Performance Management capabilities of Enterprise Manager 12c.
Approach
This book is a practical step-by-step tutorial with screenshots for carrying out tasks showing you how to manage and administer your data center with Oracle Enterprise Manager.
It is packed with best practices and tips that will help you benefit from the author's extensive experience of working with Oracle Enterprise Manager since at least a decade, and combined with his 25+ years IT industry experience.
Who this book is for
If you are a Data Center, IT or Database Team manager who wants to take advantage of the automation and compliance benefits of Enterprise Manager 12c Cloud Control, then Oracle Enterprise Manager Cloud Control 12c: Managing Data Center Chaos is for you. CTOs will also find this book useful.
Experience of Enterprise Manager is not essential as the author's experience tells you all you need to know about getting started with Enterprise Manager. More experienced readers will learn about the brand new capabilities of the 12c release.
Book Details
Paperback: 394 pages
Publisher: Packt Publishing (December 2012)
Language: English
ISBN-10: 1849684782
ISBN-13: 978-1849684781
Download [116.3 MiB]