Jump Start Rails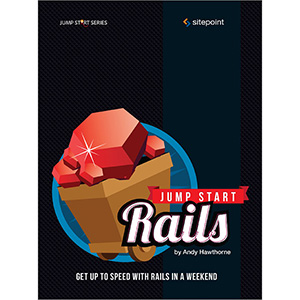 In just a few short years, Ruby on Rails has grown from cool, hipster upstart to global powerhouse. Developers around the world are passionate about Rails, and with good reason.
BUILD FAST with 60,000+ ready-to-go Ruby gems, powerful, new functionality is a never more than a few keystrokes away.
DISCOVER Test-driven development for better programming practices.
SCALE APPS Look at GitHub, Twitter, Hulu, and Penny Arcade. All huge. All successful. All Rails.
GET HIRED Search any job board, there's massive demand for Rails developers.
Those who have jumped onboard the Ruby on Rails train have never looked back and neither will you.
Learn Rails and you'll write better code, faster, spend less time setting up and maintaining code and more time building.
Consider this book an investment in your career. There's a huge and growing demand for developers with Rails skills, just look at any job board.
Learn Rails this weekend.
What will I learn?
Embrace good coding practice by learning the Rails way:
Convention over configuration
The Model–View–Controller (MVC) architecture
Test-driven development (TDD)
Don't repeat yourself (DRY)
Make web development a much slicker process with Rails. It's built on the Ruby programming language, which is a delight to work with too.
Who should read this book?
This book is for programmers new to Ruby and new to Rails.
Back-end developers experienced on other programming languages such as PHP will be able to get up to speed with Rails' fundamentals in a weekend.
It is assumed that you know your way about the command line, and some programming fundamentals.
Table of Contents
Chapter 1. Getting on Rails
Chapter 2. Starting an App
Chapter 3. Working with Data
Chapter 4. Creating an ActiveAdmin Resource
Chapter 5. Adding More Features
Chapter 6. Deploying to Heroku
Book Details
Series: Jump Start
Paperback: 150 pages
Publisher: SitePoint (August 2013)
Language: English
ISBN-10: 0987467425
ISBN-13: 978-0987467423
Download [6.4 MiB]