iPhone & iPad Web Design For Dummies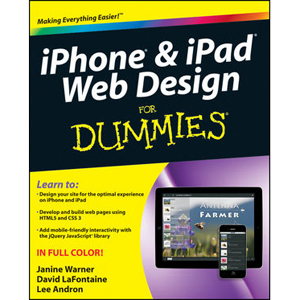 A full-color guide to designing cutting-edge web sites for the iPhone, iPad, and iPod touch!
Apple's touchscreen devices have created worldwide techno-lust, conjuring a record-breaking market out of thin air.
iPads, iPhones, and iPods are so in demand that they outsell every other device in their categories. If your website is not designed to take advantage of the extraordinary new capabilities of these popular devices, then you will miss out on an increasingly important part of your audience.
With all the focus on the App Store (thanks to the ubiquitous "There's an App for that…" ad campaign), you could be forgiven for overlooking the fact that the single most popular app on the iPhone and iPad is Safari. That's right. The humble web browser that comes installed on every iOS device, ready to surf at the flick of a finger.
This is where iPhone & iPad Web Design For Dummies comes in. Based on real-world experience, this guide (written in a language that real human beings can read) shows you how to use HTML5, CSS3, and jQuery to produce interactive websites that will delight your users and keep them coming back for more.
You'll discover how to plan the perfect mobile web experience, create interactivity and multimedia, test and optimize your creations, and publish and market your final design with iPhone & iPad Web Design For Dummies!
From the Back Cover
Grab your place in the mobile future with fully featured websites that look great on any screen!
With Apple's iPhone and iPad, the Web is everywhere — and in all sizes. The implications for the future of web design are far reaching. This book will give you a better understanding of all the new capabilities this new platform offers so you can turn your big vision into handheld reality.
Laying the groundwork — learn to design for the future of the Web, plan the perfect mobile experience, and design for the iPhone/iPad
Get down on markup — dig into the basics of markup languages and create designs for the iPhone and iPad with HTML5 and CSS 3
Picture perfect — add video and audio and optimize images and multimedia for the mobile web
Make money — select the best tools to add mobile commerce to your site
Testing 1, 2, 3 — develop a testing plan, validate code, find and fix broken links, and publish your mobile website
Open the book and find:
How to create a plan for your site
Top design tips for the iPhone as compared to the iPad
Advice on adding device detection to your website
Secrets for optimizing images, video, and audio for the mobile web
Insights and theme tips for designing mobile-friendly WordPress blogs
Proven strategies for marketing your site
Ten ways the iPhone is changing the Web
Web 2.0 opportunities revealed
Learn to:
Design your site for the optimal experience on iPhone and iPad
Develop and build web pages using HTML5 and CSS 3
Add mobile-friendly interactivity with the jQuery JavaScript library
Book Details
Paperback: 352 pages
Publisher: For Dummies (July 2011)
Language: English
ISBN-10: 1118006437
ISBN-13: 978-1118006436
Download [27.1 MiB]