Investing in the Renewable Power Market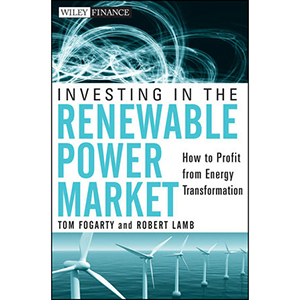 The financial challenges facing clean energy installations
The path to the widespread adoption of renewable energy is littered with major technological legal, political, and financial challenges. Investing in the Renewable Power Market is a reality check for the mass roll out of green energy and its financial dominance of the world energy market, focusing on real energy costs and global energy needs over the next decade. If green energy is to be truly successful, the market must be properly understood, so that dreams of a green future do not lead to actual energy nightmares.
The first book to cover the major investing challenges and monetary constraints placed on electric power companies as they race to meet their green energy requirements, Investing in the Renewable Power Market explains how generating electricity is totally different from other energy enterprises in that it is highly regulated and its product cannot be stored. This combination greatly affects the finances of renewable power and influences how investors should navigate the energy market. To help the reader better understand the current state of the alternative energy industry, the book:
Details the challenges facing green energy, such as the fact that it is priced compared to natural gas, which is currently at an all-time low
Analyzes real energy costs and the global demand for energy over the next decade
Describes why, in the short term, investment opportunities with renewable power will be with financial and operational restructurings
The green energy market is currently facing enormous challenges, but Investing in the Renewable Power Market explains the real costs of energy, the future of the energy market, and how to profit in both the long and short term.
Table of Contents
Chapter 1. An Overview of Renewable Power
Chapter 2. Analyzing Power Project Economics
Chapter 3. The Challenges of Renewable Power Projects
Chapter 4. Risk Assessment for Power Projects
Chapter 5. Exploiting Profitability of Distressed and Abandoned Municipal Power Plants
Chapter 6. Energy Storage
Chapter 7. Shale Natural Gas and Its Effect on Renewable Power
Chapter 8. Solar PV and Solar Thermal Power Plants
Chapter 9. Wind Power Plants
Chapter 10. Electric Power Transmission
Chapter 11. Natural Gas Power Plants
Chapter 12. Coal-Fired Power Plants
Chapter 13. Biomass Energy and Biomass Power Plants
Chapter 14. Nuclear Power Energy Plants
Chapter 15. Hydropower Plants
Chapter 16. Geothermal Power Plants
Chapter 17. Energy Efficiency and Smart Grid
Book Details
Hardcover: 205 pages
Publisher: Wiley (February 2012)
Language: English
ISBN-10: 0470878266
ISBN-13: 978-0470878262
Download [1.3 MiB]