Microsoft Project 2013: The Missing Manual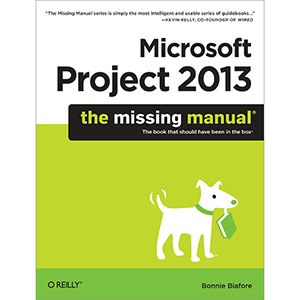 Get up to speed on Microsoft Project 2013 and learn how to manage projects large and small. This crystal-clear book not only guides you step-by-step through Project 2013's new features, it also gives you real-world guidance: how to prep a project before touching your PC, and which Project tools will keep you on target. With this Missing Manual, you'll go from project manager to Project master.
The important stuff you need to know
Learn Project 2013 inside out. Get hands-on instructions for the Standard and Professional editions.
Start with a project management primer. Discover what it takes to handle a project successfully.
Build and refine your plan. Put together your team, schedule, and budget.
Achieve the results you want. Build realistic schedules with Project, and learn how to keep costs under control.
Track your progress. Measure your performance, make course corrections, and manage changes.
Create attractive reports. Communicate clearly to stakeholders and team members using charts, tables, and dashboards.
Use Project's power tools. Customize Project's features and views, and transfer info via the cloud, using Microsoft SkyDrive.
Table of Contents
Part I: Project Management: The Missing Manual
Chapter 1. Projects: In the Beginning
Chapter 2. Planning a Project
Part II: Project Planning: More Than Creating a Schedule
Chapter 3. Getting to Know Microsoft Project
Chapter 4. Creating a Simple Project
Chapter 5. Setting Up a Project File
Chapter 6. Identifying the Work to Be Done
Chapter 7. Building a Schedule
Chapter 8. Building a Team for Your Project
Chapter 9. Assigning Resources to Tasks
Chapter 10. Setting Up a Project Budget
Chapter 11. Reviewing and Fine-Tuning Your Plan
Chapter 12. Saving the Project Plan
Part III: Projects in Action
Chapter 13. Tracking Status
Chapter 14. Evaluating and Correcting Project Performance
Chapter 15. Managing Change
Chapter 16. Reporting on Projects
Chapter 17. Closing a Project
Part IV: Project Power Tools
Chapter 18. Working on More Than One Project
Chapter 19. Exchanging Data Between Programs
Chapter 20. Linking and Embedding
Part V: Customizing Project
Chapter 21. Viewing What You Want
Chapter 22. Customizing the Ribbon and Quick Access Toolbar
Chapter 23. Reusing Project Information
Chapter 24. Saving Time with Macros
Part VI: Appendixes
Appendix A. Installing Project
Appendix B. Getting Help
Appendix C. Keyboard Shortcuts
Book Details
Paperback: 810 pages
Publisher: O'Reilly Media / Pogue Press (April 2013)
Language: English
ISBN-10: 1449357962
ISBN-13: 978-1449357962
Download [46.1 MiB]