Instant MinGW Starter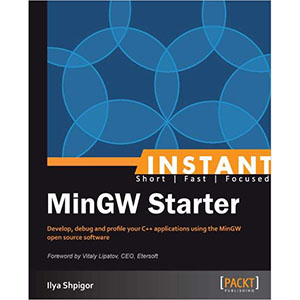 If you need stable, dynamically developed, and easy-to-configure instrumentation for application development, look no further than MinGW. It supplies all the dynamic tools you need to enable you to develop Microsoft Windows applications, while allowing for easy integration with the software that you already use.
This book will give you the expert guidance you will need to start developing applications with Instant MinGW. As well as help you to become an experienced user of MinGW, the book will also detail some of the more common pitfalls that beginners face when first using the software, and more importantly, how to avoid them yourself.
This book will help you through the installation process, and help introduce you to compilation, debugging, and profiling with MinGW. It will guide you in importing existing projects developed with Visual C++ Integrated Development Environment to MinGW, and show you how to start using it to develop your current projects with minimal effort.
With Instant MinGW Starter, you will gain a reliable, comprehensive, and supremely beneficial introduction to the MinGW software, and quickly learn how to use it for new, and old, projects.
What you will learn from this book
How to quickly install and configure the MinGW.
Debug and profile your C++ applications with MinGW.
Effective ways to build complex applications with GNU Make utility.
Import existing Visual C++ project to MinGW software.
Develop cross-platform, GUI library, based applications.
Integration of well-known open source IDE systems with MinGW toolset.
Approach
Get to grips with a new technology, understand what it is and what it can do for you, and then get to work with the most important features and tasks. This is a Starter guide designed to enable the reader to start using MinGW to develop Microsoft Windows applications as quickly, and as efficiently, as possible.
Who this book is written for
This book is for C and C++ developers who are looking for new and effective instruments to use in application development for Microsoft Windows. No experience of MinGW is needed: this book will guide you through the essentials to get you using the software like a pro in a matter of hours.
Book Details
Paperback: 78 pages
Publisher: Packt Publishing (January 2013)
Language: English
ISBN-10: 1849695628
ISBN-13: 978-1849695626
Download [2.8 MiB]