Groovy 2 Cookbook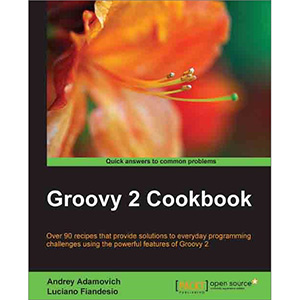 Get up to speed with Groovy, a language for the Java Virtual Machine (JVM) that integrates features of both object-oriented and functional programming. This book will show you the powerful features of Groovy 2 applied to real-world scenarios and how the dynamic nature of the language makes it very simple to tackle problems that would otherwise require hours or days of research and implementation.
Groovy 2 Cookbook contains a vast number of recipes covering many facets of today's programming landscape. From language-specific topics such as closures and metaprogramming, to more advanced applications of Groovy flexibility such as DSL and testing techniques, this book gives you quick solutions to everyday problems.
The recipes in this book start from the basics of installing Groovy and running your first scripts and continue with progressively more advanced examples that will help you to take advantage of the language's amazing features.
Packed with hundreds of tried-and-true Groovy recipes, Groovy 2 Cookbook includes code segments covering many specialized APIs to work with files and collections, manipulate XML, work with REST services and JSON, create asynchronous tasks, and more. But Groovy does more than just ease traditional Java development: it brings modern programming features to the Java platform like closures, duck-typing, and metaprogramming.
In this new book, you'll find code examples that you can use in your projects right away along with a discussion about how and why the solution works. Focusing on what's useful and tricky, Groovy 2 Cookbook offers a wealth of useful code for all Java and Groovy programmers, not just advanced practitioners.
What you will learn from this book
Use Groovy with different IDEs and Operating Systems
Integrate Groovy with Java and understand the peculiar features of the language
Work with files of different formats, like PDF, Excel, and Zip
Manipulate XML and work with JSON
Access databases using the elegant Groovy API
Unleash the power of asynchronous programming using the advanced features of the GPars API
Learn how to use Groovy to test your Java code and other testing techniques
Master the metaprogramming capabilities of the language and learn how to write Domain Specific Languages
Approach
This book follows a Cookbook style and is packed with intermediate and advanced level recipes.
Who this book is written for
This book is for Java developers who have an interest in discovering new ways to quickly get the job done using a new language that shares many similarities with Java. The book's recipes start simple, therefore no previous Groovy experience is required to understand the code and the explanations accompanying the examples.
Book Details
Paperback: 394 pages
Publisher: Packt Publishing (October 2013)
Language: English
ISBN-10: 1849519366
ISBN-13: 978-1849519366
Download [7.3 MiB]