Implementing VMware vCenter Server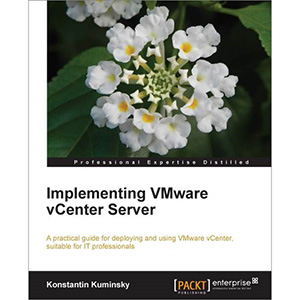 Virtualization is a hot topic today. It saves time and effort for IT professionals as well as helping to keep infrastructure costs down and makes the IT industry greener. VMware, one of the major players on the virtualization market, offers great scalability and reliability features, professional support, and constantly works on improvements for their products. VMware vCenter Server is a necessary component of any professional vSphere implementation. It offers a great variety of features and capabilities that simplify an administrator's day-to-day work.
This book is a practical and hands-on guide to VMware vCenter Server, providing a description of its features and capabilities as well as useful tips on doing day-to-day administrative tasks.
This book starts with an introduction to VMware vCenter Server, describing requirements and deployment steps along the way. It takes you through a description of product features and different aspects of administration giving useful tips for day-to-day tasks. You will learn how to deploy VMware vCenter Server, and how to manage hosts and virtual machines. You will also take a look at security features, availability, resource management, and discuss monitoring and automation topics.
The last two chapters will describe additional products that can be used together with VMware vCenter Server: VMware vCenter Operations Manager and VMware vCenter Orchestrator. If you want to learn how VMware vCenter Server can help with managing your environment, then this is the book for you.
What you will learn from this book
Deploy VMware vCenter Server and ESXi hosts
Create and clone virtual machines and work with templates
Reduce downtime, and configure and manage availability features
Allocate resources, and configure resource pools and DRS
Manage users
Secure ESXi hosts
Learn to use alerts
Work with VMware vCenter Operations Manager
Get to grips with VMware vCenter Orchestrator
Approach
This book is a practical, hands-on guide that will help you learn everything you need to know to administer your environment with VMware vCenter Server. Throughout the book, there are best practices and useful tips and tricks which can be used for day-to-day tasks.
Who this book is written for
If you are an administrator or a technician starting with VMware, with little or no knowledge of virtualization products, this book is ideal for you. Even if you are an IT professional looking to expand your existing environment, you will be able to use this book to help you improve the management of these environments. IT managers will find it helpful in terms of improving cost efficiency, ensuring required levels of service and utilising its excellent reporting abilities.
Book Details
Paperback: 324 pages
Publisher: Packt Publishing (October 2013)
Language: English
ISBN-10: 1849689989
ISBN-13: 978-1849689984
Download [25.4 MiB]