Fedora Bible, 2011 Edition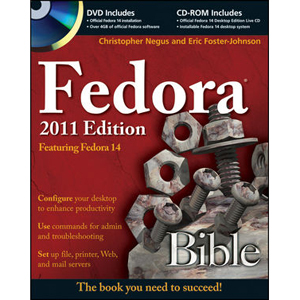 Get all the essentials of the major changes in Fedora 14Veteran authors Christopher Negus and Eric Foster-Johnson provide you with a thorough look at the skills needed to master the latest version of Fedora and Red Hat Linux. Their step-by-step instructions walk you through a painless and simple installation of Linux; then you'll explore the major changes to the release of Fedora 14 while  also revisiting the previous version so you can see what features have been updated and revised.
Focuses on the essentials of the updated and new elements of Fedora Linux 14
Addresses using packagekit, running Windows apps, scanning images, and installing over the Internet
Touches on how to work in a Linux office with MSFT office compatible office apps
Covers new material on zarafa, xenner, deja dup, and more
Features a DVD that includes the latest distribution of Fedora Linux as well as a bootable Fedora LiveCD
Fedora 14 includes many important updates and additions — this book gets you up to date on the most essential changes.
From the Back Cover
More than a quarter of a million copies sold in previous editions!  The perfect guide to getting the most out of Fedora 14
Install Fedora and you'll have your hands on the latest Linux technology. With bestselling authors Christopher Negus and Eric Foster-Johnson teaching you the new features of Fedora 13 and 14, you'll be up to speed and more productive in no time. Learn to install, configure, and administer Fedora systems, from simple desktops to Internet servers. Use this book as a guide to installing or running Fedora from the included DVD and Live CD.
Set up Fedora to:
Help you be more productive, without the weight of Windows
Get online easier with improved NetworkManager support
Get more out of your laptops and netbooks
Create office documents, spreadsheets, and presentations
Manage, play, and stream your music and images
Build a secure Internet server with e-mail, Web, FTP, and database services
Run alongside other operating systems through virtualization
Run Windows applications using virtualization or WINE
New in Fedora 14
Automatic print driver installation
More efficient startup
Improved video and audio
Runs better on low-end systems such as netbooks
Better virtualization
New open-source groupware suite
Book Details
Paperback: 888 pages
Publisher: Wiley (April 2011)
Language: English
ISBN-10: 047094496X
ISBN-13: 978-0470944967
Download [6.0 MiB]