How to Get What You Want…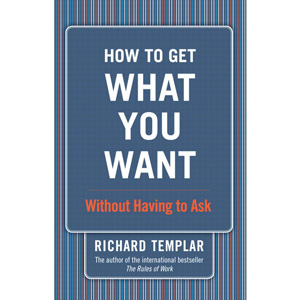 Tired of not getting what you want? In How to Get What You Want…Without Having to Ask, best-selling author Richard Templar brings his inimitable originality, imagination, wisdom, and straight talk to the challenges of negotiation, persuasion, and influence. You'll find 100 clever, simple, pain-free ways to get people to happily say "yes" to you… practical principles and strategies covering a wide range of work and life situations. Discover how to get what you want without saying a word… and, for those rare occasions when you have to ask, find the techniques and words that get the job done.
From the Back Cover
From Richard Templar
Best-selling Author of The Rules of Life and The Rules of Work
100 new tips, tricks, and skills for negotiating, persuading, and influencing
Be the kind of person who gets what they want.
Be the kind of person people want to say yes to.
Help people say yes
(even when it isn't easy)
(even when they have to make an exception).
Fresh. Fun. Quick.
Skills you'll use every day:
At work, at home, everywhere.
Get what you want.
You can.
It starts right here.
Book Details
Paperback: 224 pages
Publisher: FT Press (July 2011)
Language: English
ISBN-10: 0132824361
ISBN-13: 978-0132824361
Download [2.8 MiB]