What Would Ben Graham Do Now?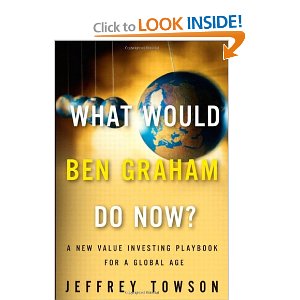 Jeffrey Towson modernizes value investing for high-growth emerging markets, introducing techniques he mastered working for Prince Alwaleed, the "Arabian Warren Buffet." Retaining Ben Graham's focus on price and quality, he integrates crucial values of political access, reputation, and capabilities. Next, he presents investment "playbooks" designed to help you profitably navigate tomorrow's titanic market collisions.
From the Back Cover
"With more than half the world's GDP growth coming from developing countries and regions like China, India, Brazil, and Africa by 2020, a clear approach to participating in this new global landscape is imperative. Jeffrey Towson delivers one such view. He takes a powerful old paradigm—that of fundamental value from Ben Graham—and applies it to the financial and cultural nuances of the developing world. Towson's real world experience and application of Graham's theory is a thoughtful read for any business leader."
—Dominic Barton, Global Managing Director, McKinsey & Company
"Jeffrey successfully draws on his vast experience accumulated through working closely with HRH Prince Alwaleed bin Talal to develop an optimal investment approach, marrying the well-understood principles of international investing with the idiosyncratic aspects of emerging markets."
—Tony Hchaime, Head of Middle East and North Africa, The D. E. Shaw Group
"…a wake-up call to the powerful fact that, in the 21st century, the real opportunities lie elsewhere…. Rich in ideas and examples [of] how this new approach has spectacularly delivered, this book will revolutionize your investment strategy."
—Peter Williamson, Professor of International Management, University of Cambridge,  Judge Business School
"Jeff has a view of global investing, incorporating both the developed and developing economies, that is virtually unmatched."
—Jerry Leamon, Global Managing Partner, Services and Mergers & Acquisitions, Deloitte Touche Tohmatsu
"Jeffrey Towson is uniquely qualified to help value hunters sharpen the tools they already possess to capture unprecedented opportunities in a new, hyper-globalized era."
—Tom Mitchell, Deputy News Editor, The Financial Times
"…a startling analysis of the world in which America competes. If it doesn't challenge your concepts of the global competitive environment, you aren't paying attention."
—Congressman Mick Mulvaney, United States House of Representatives
For generations, intelligent investors have built wealth by applying Benjamin Graham's classic value investing principles. The approach is as powerful as ever, but the arrival of a new global investment terrain–with its differing politico-economic systems, rising markets, and increasing collisions–is creating both historic challenges and opportunities for value investors. Now, Jeffrey Towson shows how to uncover unprecedented value opportunities in today's colliding, chaotic, and wildly mispriced new global marketplace.
Drawing on extensive experience investing and deal-making on the ground around the world, Towson introduces a new value playbook for global investing. He shows how value investors, private equity firms, family offices, institutional investors, and others can use a value-added approach to confidently and comfortably extend their current investment strategies to global opportunities. The result is a practical investment playbook for a global age, identifying today's best opportunities, and preparing you for massive market shifts that are just beginning to emerge.
Adapts and extends Ben Graham's classic value principles to the new global investment terrain
How to get the highest quality companies at the lowest possible prices in today's global markets
Takes advantage of the biases and mispricings of increasingly colliding markets
Profit from the politico-economic, cultural, legal, and other biases that are inherent to a multipolar world
Details the strategies of the new global tycoons
The lords of finance are shifting to global strategies and quickly evolving into a new breed of global investors
Presents a comprehensive value investing playbook for investors looking to "go global"
How to successfully capture today's opportunities and navigate tomorrow's titanic market collisions
Book Details
Hardcover: 320 pages
Publisher: FT Press (April 2011)
Language: English
ISBN-10: 0132173239
ISBN-13: 978-0132173230
Download [12.2 MiB]