GNS3 Network Simulation Guide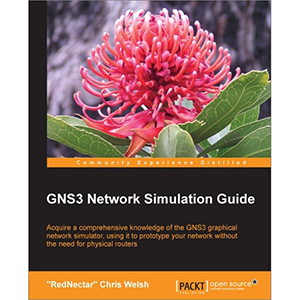 GNS3 is an open-source Graphical Network Simulator used extensively by networking professionals to simulate networking devices such as Cisco, Juniper and Vyatta routers, along with Virtual PCs.
GNS3 Network Simulation Guide gives you all the information you need to run a successful GNS3 simulation. You will be guided through the tricky installation pre-requisites and procedures involved in developing a simulated topology suitable for studying for Cisco CCIE Certification. We will also cover many useful tips and tricks which will help you make the most of your GNS3 simulator application.
You will begin the GNS3 journey by ensuring that you have prepared your computer with any additional files required by GNS3, to set up the simulated environment needed for a successful installation process.
Once GNS3 is installed, you will get to work creating a successful simulation including routers, Ethernet switches, Virtual PCs, and capture packets using Wireshark. Next, you will learn how to master GNS3's Graphical User Interface as well as the Command Console. The inner workings of GNS3 are described in depth so that you gain an appreciation of how UDP tunnels are used to tie the many components of GNS3 together.
By following the clear examples and exercises in this guide, you will learn everything that you need to know about how to use GNS3 to prepare for certifications, as well as simulate real-world network scenarios.
What you will learn from this book
Install GNS3 on Windows, OS X, and Linux
Build simulations using Cisco routers, layer 3 switches, and Virtual PCs
Master the GNS3 Graphical User Interface
Tweak your favourite virtual terminal application , so that it will work with GNS3
Examine your simulated traffic with Wireshark
Manage your project's files and directories
Include virtualized Windows or Linux computers into your simulations
Simulate Juniper and Vyatta routers
Learn about the GNS3 orchestration process which allows multiple simulated devices to communicate with each other
Debug using the GNS3 command console
Create complex multi-hosted environments for large scale simulations
Approach
GNS3 Network Simulation Guide is an easy-to-follow yet comprehensive guide which is written in a tutorial format helping you grasp all the things you need for accomplishing your certification or simulation goal.
Who this book is for
If you are a networking professional who wants to learn how to simulate networks using GNS3, this book is ideal for you. The introductory examples within the book only require minimal networking knowledge, but as the book progresses onto more advanced topics, users will require knowledge of TCP/IP and routing.
Book Details
Paperback: 154 pages
Publisher: Packt Publishing (October 2013)
Language: English
ISBN-10: 1782160809
ISBN-13: 978-1782160809
Download [5.8 MiB]