Getting Started with Simulink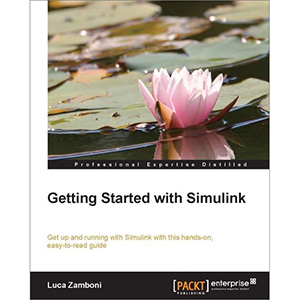 Simulink is an engineer's Swiss army knife: instead of spending the day typing out complex formulas, Simulink enables you to both draw and execute them. Block after block, you can develop your ideas without struggling with obscure programming languages and you don't have to wait to debug your algorithm – just launch a simulation!
Getting Started with Simulink will give you comprehensive knowledge of Simulink's capabilities. From the humble constant block to the S-function block, you will have a clear understanding of what modelling really means, without feeling that something has been left out. By the time you close the book, you'll be able to further extend your modelling skills without any help.
We"ll start with a brief introduction, and immediately start placing the first blocks. Little by little, you'll build a car cruise controller model, followed by the mathematical model of a sports car in order to calibrate it. Then you'll learn how to interface your Simulink model with the external world. This book will give you an easy understanding of the tools Simulink offers you, guiding you through a complex exercise split into the three main phases of Simulink development: modelling, testing, and interfacing.
What you will learn from this book
Understand the pros and cons of Simulink
Describe your ideas using block diagrams
Tune your simulation parameters
Draw clean, uncluttered models by reusing the logic and subdividing it into inner blocks
Run simulations with the appropriate source blocks
Analyse the simulation results with the scope block
Implement S-functions to reuse legacy code
Interface Simulink with applications outside the MATLAB environment
Approach
This practical and easy-to-understand learning tutorial is one big exciting exercise for students and engineers that are always short on their schedules and want to regain some lost time with the help of Simulink.
Who this book is written for
This book is aimed at students and engineers who need a quick start with Simulink. Though it's not required in order to understand how Simulink works, knowledge of physics will help the reader to understand the exercises described.
Book Details
Paperback: 132 pages
Publisher: Packt Publishing (October 2013)
Language: English
ISBN-10: 178217138X
ISBN-13: 978-1782171386
Download [7.0 MiB]