Getting Started with Drupal Commerce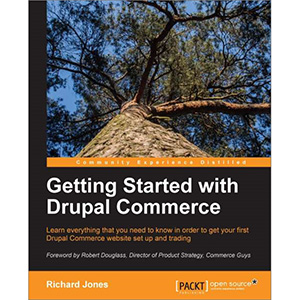 Drupal Commerce is emerging as the preferred option for open source e-commerce, and it also stands up to comparison against established proprietary systems.
Getting Started with Drupal Commerce is an introductory guide to building an online store using Drupal Commerce in Drupal 7.
Getting Started with Drupal Commerce takes you step-by-step through a complete e-commerce website build, from a clean installation of Drupal to a working example store. Starting with how to set up a Drupal development environment, we then discuss the planning of an e-commerce site and the typical questions you should be asking before getting started.
Next, we walk through all of the essential setup required for most types of e-shop, including taxes, shipping, discounts and coupons, the checkout process, and backend order management. By the end of Getting Started with Drupal Commerce, you will be fully-equipped to plan and build your own store and you will understand the fundamental principles of Drupal Commerce that will enable you to progress to more complex store builds.
What you will learn from this book
Learn the fundamental concepts of Drupal Commerce
Install Drupal and Drupal Commerce in a local development environment
Plan an e-shop for building in Drupal Commerce
Install and configure Drupal Commerce
Set up a product catalogue and learn the difference between product displays and variations
Configure VAT and sales tax
Set up the checkout process
Create price variations and special offers for products and customers
Manage the order process in Commerce Backoffice
Extend Commerce with more contributed modules
Approach
A simple yet concise step-by-step tutorial that starts from scratch and builds up your knowledge with focused examples that will enable you to set up and run an e-commerce website.
Who this book is written for
This book is for beginners and will take you through the installation and configuration of Drupal Commerce from scratch, but some familiarity with Drupal 7 will be an advantage. All examples are based on development on a local computer – you do not need a hosted Drupal environment.
Book Details
Paperback: 152 pages
Publisher: Packt Publishing (September 2013)
Language: English
ISBN-10: 1783280239
ISBN-13: 978-1783280230
Download [13.5 MiB]