Game Design Secrets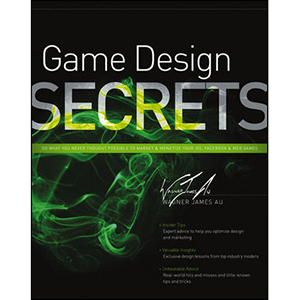 Design great Facebook, iOS, and Web games and learn from the experts what makes a game a hit!
This invaluable resource shows how to put into action the proven design and marketing techniques from the industry's best game designers, who all started on a small scale. The book walks novice and experienced game designers through the step-by-step process of conceptualizing, designing, launching, and managing a winning game on platforms including Facebook, iOS, and the Web. The book is filled with examples that highlight key design features, explain how to market your game, and illustrate how to turn your design into a money-making venture.
Provides an overview of the most popular game platforms and shows how to design games for each
Contains the basic principles of game design that will help promote growth and potential to generate revenue
Includes interviews with top independent game developers who reveal their success secrets
Offers an analysis of future trends that can open (or close) opportunities for game designers
Game Design Secrets provides aspiring game designers a process for planning, designing, marketing, and ultimately making money from new games.
From the Back Cover
Do What You Never Thought Possible to Market & Monetize Your iOS, Facebook and Web Games
When you open this book, you'll feel as though you're sitting down with an expert who is disclosing rare information about the essentials of successful game design. Wagner James Au shares knowledge garnered from his years of experience so that you can benefit from his tactics, strategies, and secrets for turning a passion for games into a money-making hobby or career. Covering all aspects of conception, design, deployment, and marketing, this book reveals helpful and advanced insight from the industry's best game designers who all started small—but ultimately designed some of the most popular games for the web, iOS, and Facebook.
The Insider's Guide to:
Understanding the differences between iOS, Facebook®, and the web as platforms
Taking advantage of a wealth of resources for designing games
Learning why successful games have such passionate followers who are eager to pay to play
Projecting future trends and opportunities for gaming
Gaining a solid understanding of the basic principles of gaming growth and revenue
Marketing your game so that you can make money from it
The Secrets series reveals:
Authoritative information in highlighted areas
Exceptional advice in the margin notes
Unique insight from years of author experience
Rarely revealed tips and techniques
Invaluable shortcuts and workarounds
Insider Tips Expert advice to help you optimize design and marketing
Valuable Insights Exclusive design lessons from top industry insiders
Unbeatable Advice Real-world hits and misses and little-known tips and tricks
Table of Contents
Part I: Overview
Chapter 1. Market Overview. iOS, Facebook, and the Web
Chapter 2. iOS versus Facebook versus the Web. What's the Right Platform?
Part II: Facebook
Chapter 3. Facebook Games. The Users, the Money, and the Major Players
Chapter 4. Facebook Game Design. Basic Principles for Growth and Revenue
Chapter 5. Facebook Design Lessons from KIXEYE and 5th Planet Games
Chapter 6. Future Trends and Opportunities for Facebook Games
Part III: The Web
Chapter 7. Deep Dive into Web Gaming. Who Plays, Who Pays
Chapter 8. Web Game Design. Basic Principles for Growth and Revenue
Chapter 9. Web Game Developer Profiles. Kingdom of Loathing, Nitrome, and Desktop Tower Defense
Chapter 10. Future Trends and Opportunities for Web Gaming
Part III: The Web
Chapter 11. Quick Survey of the iOS Game Market
Chapter 12. iOS Game Design. Basic Principles for Growth and Revenue
Chapter 13. iOS Game Developer Profile. Tiger Style and Hatch
Chapter 14. Future Trends and Opportunities for iOS Gaming
Part V: Funding Your Game
Chapter 15. Is Your Game Ready to Get VC or Crowdfunding?
Part VI: Game Design Documents and Final Thoughts
Chapter 16. Game Design Documents. Tiger Style's Spider and Waking Mars
Chapter 17. Concluding Thoughts Before You Start Designing
Part VII: Appendixes
Appendix A. Resources for Designers
Appendix B. Design Principles
Appendix C. Glossary of Terms and Acronyms
Book Details
Paperback: 336 pages
Publisher: Wiley (October 2012)
Language: English
ISBN-10: 1118337743
ISBN-13: 978-1118337745
Download [42.3 MiB]