ZBrush 4 Sculpting for Games: Beginner's Guide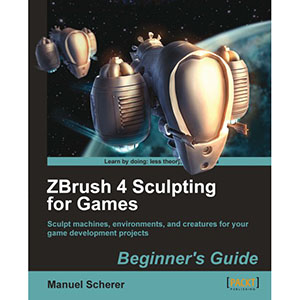 ZBrush is a fantastic tool for creating models for use in computer games. Using a wide range of powerful tools you can create models for vehicles, props, environments, and characters.
This book makes creating game art in ZBrush fast and easy. It covers everything you need to create models of all kinds for your game projects, even if you've never used ZBrush before.
Built around four complete ZBrush projects, the book gives you everything you need to sculpt props, vehicles, and creatures in ZBrush. You'll start by creating a "spooky tree" model, mastering the sculpting, texturing, and decoration skills that are essential for all ZBrush topics. Next you'll move to man-made objects with a sci-fi drone. Next you'll see how to sculpt monsters and other creatures, deal with cloth and other soft materials, and prepare the model to become an animated, controllable character in a game. The final project returns to machines, building a complete, detailed spaceship for use in your sci-fi games.
The only book to teach you everything about the best diagramming software for the Macintosh
What you will learn from this book :
Model solid and organic matter in ZBrush
Produce low-poly models suitable for use in 3D games
Work with textures, materials, and other details
Produce outstanding visual results
Incorporate material from photos and other sources into your sculptures
Produce complex creatures and objects with moving parts
Approach
This guidebook is built around four complex example projects with clear step-by-step instructions followed by useful explanation, advice, and handy reference material. It is richly illustrated with a friendly, informal writing style. If you want to get started fast using ZBrush for games then this is the book for you.
Who this book is written for
This book is for all digital artists or game developers who want to create their own 3D sculptures in ZBrush. No experience with ZBrush is required – it's suitable for complete beginners and intermediate users.
Book Details
Paperback: 348 pages
Publisher: Packt Publishing (March 2011)
Language: English
ISBN-10: 1849690804
ISBN-13: 978-1849690805
Download [19.7 MiB]